Buckwheat Pancakes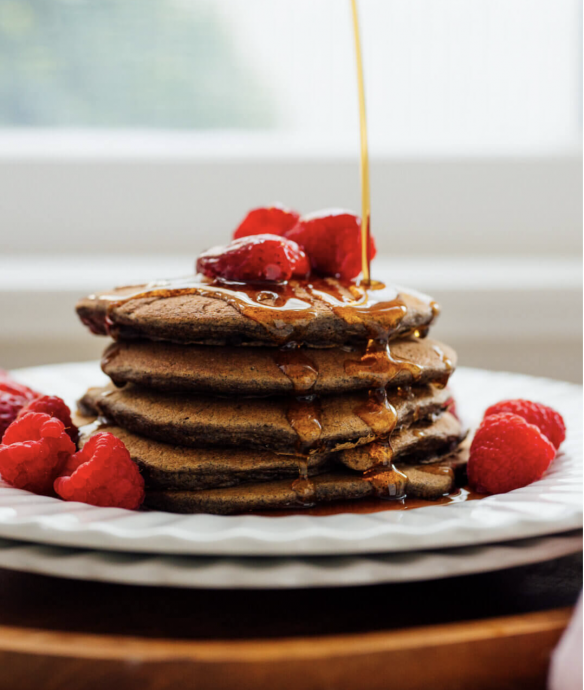 Ever tried buckwheat pancakes? Sure, they aren't the prettiest pancakes around, but they make up for their humble appearance with wonderful flavor and texture. Buckwheat, a gluten-free relative of rhubarb, has a uniquely nutty flavor all its own.
Thanks to the buckwheat flour, these pancakes are naturally gluten free! These pancakes possess a light and airy consistency that quietly surrenders to the pressure of a fork and soaks up maple syrup like a sponge. I just love them.
For thicker and fluffier pancakes, Adrianna suggests substituting half whole wheat or all-purpose flour for the buckwheat flour. Granted, your pancakes will no longer be gluten free, but the fluffier texture and lighter buckwheat flavor might be perfect for you.
Be sure to properly preheat your cooking surface. It's ready when a few drops of water sizzle immediately upon impact. Don't start too soon, or your pancakes won't brown and will be difficult to turn.
Ingredients:
1 cup plus 1 tablespoon buckwheat flour (or ½ cup buckwheat and ½ cup flour of choice)
1 tablespoon sugar
1 teaspoon baking powder
1 teaspoon baking soda
¼ teaspoon salt
1 ¼ cups buttermilk, shaken*
2 eggs
½ teaspoon pure vanilla extract
Butter, for the skillet