Grilled Tahini Chicken Caesar Sandwiches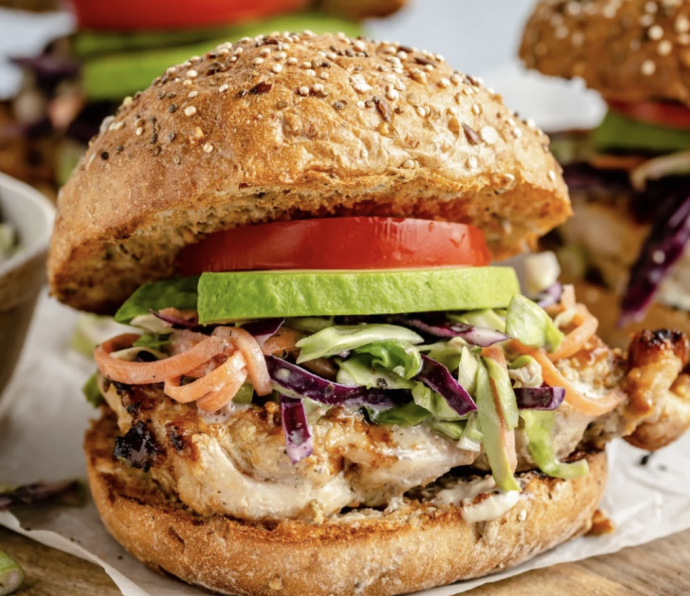 Delicious grilled chicken caesar sandwiches with fresh tahini slaw and all of the toppings your heart desires. These chicken caesar sandwiches use a flavorful, dairy free tahini caesar marinade that doubles as the slaw dressing! You'll LOVE these sandwiches for an easy summer dinner or lunch. Great for BBQs, too!
Pile these chicken sandwiches high on your fav buns with the best toppings like sweet tomato and creamy avocado. They're perfect for your next BBQ, potluck, or just weeknight dinner or lunch. I've included tons of ways to customize your sandwiches and even ways to make them without a grill. Enjoy!
Ingredients:
1/4 cup drippy tahini (we use Soom tahini)
1 tablespoon olive oil
Juice from ½ large lemon (about 2-3 tablespoons fresh lemon juice)
1 clove garlic, grated or finely minced (or sub ¼ teaspoon garlic powder)
1 teaspoon very finely diced capers
2 teaspoons caper brine (from the jar of capers)
1 teaspoon dijon mustard (we love a grainy dijon!)
3 tablespoons warm water
Plenty of freshly ground salt and black pepper
For the chicken:
4 larger boneless skinless chicken thighs or 4 medium to smaller chicken breasts
Freshly ground salt and pepper
For the tahini caesar slaw:
1/2 cup shredded green cabbage
½ cup shredded red cabbage (or do a blend of both!)
1/2 cup shredded carrots
¼ cup chopped green onion
1 teaspoon pure maple syrup
Freshly ground salt and pepper
For assembling:
4 hamburger buns of choice (I love Dave's Killer Bread or brioche!)
1 large ripe avocado, sliced
1 roma or heirloom tomato, sliced