Grilled Peaches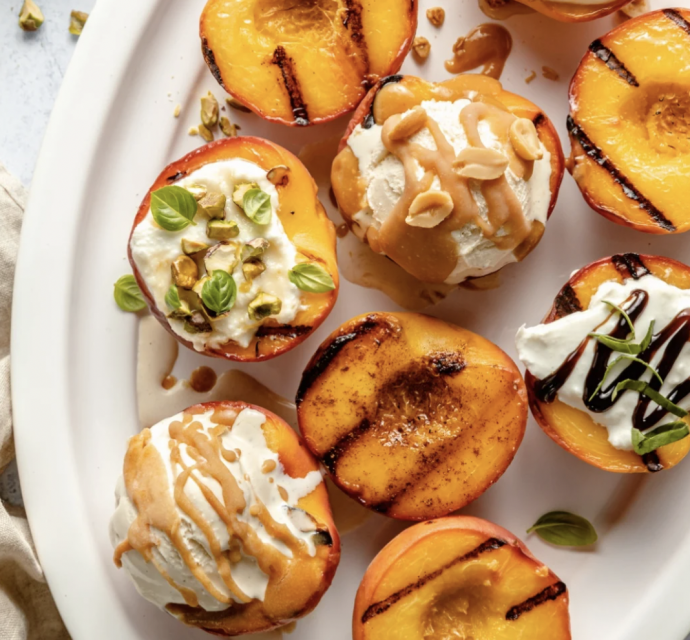 Juicy delicious grilled peaches with 6 different topping ideas! Learn exactly how to grill peaches with this easy tutorial, then finish them off with one of our sweet or savory topping ideas. These delicious, healthy grilled peaches make the perfect breakfast, snack or dessert on a summer day!
Check the color. The yellow parts of ripe peaches should be golden and vibrant in color rather than pale. Pay close attention to the yellow (and less so to the red) as this will indicate a ripe peach! Make sure there isn't any green color on the flesh as that would indicate that the peaches are not ripe enough.
Use your nose. Ripe peaches will often have a light, sweet peach smell even before cutting into them! If they smell overly fragrant this could be a sign that the peach is too ripe.
Give a gentle squeeze. Just like choosing an avocado, you'll want to gently press down on the flesh to test the ripeness and juiciness. Because we'll be halving and grilling the peaches rather than eating them whole, be sure there's some give but that the peaches do not bruise to the touch — meaning they're likely too soft.
Ingredients:
For the peaches:
4 ripe peaches, halved and pitted
Olive oil, for brushing the peaches
Topping ideas:
Peach Caprese
Burrata
Balsamic Glaze
Basil Ribbons
Salted Peanut Butter Caramel Sundae
Vanilla bean ice cream of choice
Salted Peanut Butter Caramel
Cinnamon Brown Sugar Topping*
1-2 tablespoons melted salted butter
1-2 tablespoons brown sugar
½ teaspoon cinnamon
Salted Brown Butter & Ice Cream
Vanilla ice cream
1-2 tablespoons butter, browned
Lemon Ricotta Pistachio**
Ricotta
Lemon zest
Salt, to taste
Chopped roasted pistachios
Drizzle of honey
Basil or arugula
Yogurt + Granola (breakfast version!)
Vanilla or plain greek yogurt
My favorite granola recipe
Drizzle of honey