Ube Cake with Coconut Frosting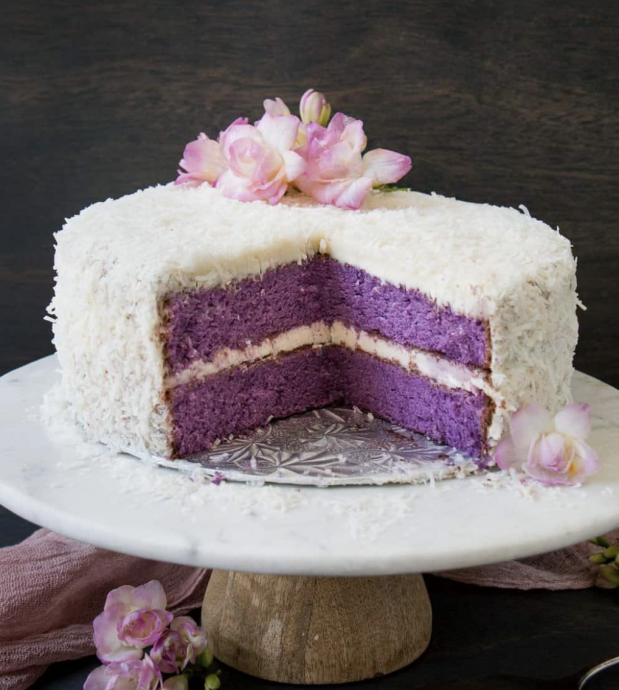 This beautifully vibrant ube cake is soft, moist, and packed with the lovely flavor of purple yam. It's topped with a coconut cream frosting for a melt-in-your-mouth finish and to enhance the natural flavor of ube.
Ube cake is a traditional Filipino chiffon cake or sponge cake made with ube, a purple yam. The ingredients and method are very similar to that of a chiffon cake. However the addition of ube results in a moister and slightly denser cake.
Taste – This cake is bursting with the distinct flavor of ube. It's mildly nutty and creamy with a hint of coconut. It's like white chocolate meets pistachio and coconut in one gorgeous purple cake. The coconut buttercream is rich and creamy with just the right amount of natural coconut flavor. Texture – This ube cake is incredibly soft and moist. The crumb is delicate and tender, while the buttercream is silky-smooth with a slightly chewy texture from the shredded coconut. Can be made in advance – This cake keeps well for up to a week if properly stored, so it can be made up to 3 days in advance.
Ingredients:
Ube Cake
2 cups (250g) all-purpose flour
1 & 1/2 cups (300g) granulated sugar, divided
2 & 1/2 tsp baking powder
1/2 tsp salt
7 large egg yolks
1/2 cup (120ml) vegetable oil
3/4 cup (180ml) milk
1 tbsp ube flavor extract
7 large egg whites
1/2 tsp cream of tartar
Coconut Cream Frosting
1 cup (227g) unsalted butter, softened
1/2 tsp vanilla extract
1/4 tsp salt
4 cups (500g) powdered sugar
1/4 cup (60ml) coconut cream
1 cup (100g) sweetened shredded coconut