Herby Olive Italian Orzo Salad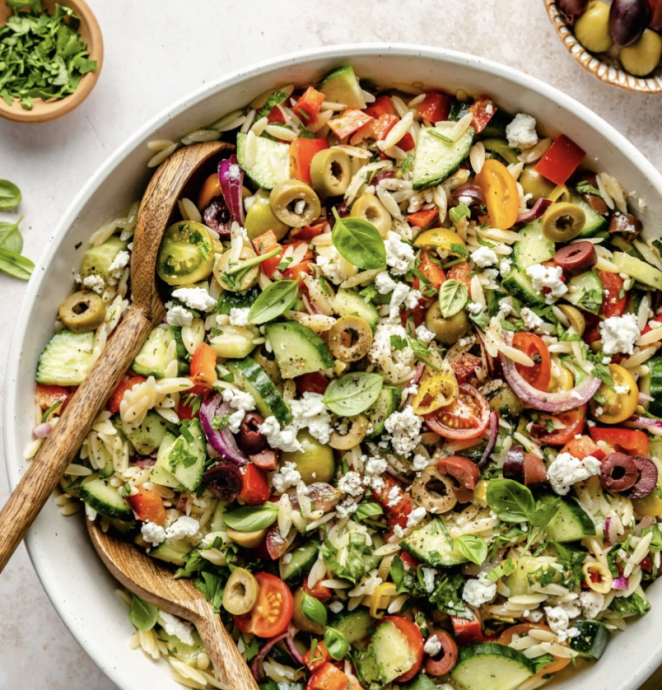 Beautiful herby Italian orzo salad filled with crunchy veggies, savory olives and delicious feta crumbles. Everything gets tossed in a light homemade Italian dressing for the perfect summer lunch or dinner that's easy to customize. Bring this fresh Italian orzo salad to your next BBQ!
This herby Italian orzo salad is a delicious pasta take on my Italian Chopped Brussels Sprouts Salad, which just so happens to be one of the most popular salad recipes on Ambitious Kitchen. One bite and you'll truly be hooked — at least Abra and I were when we made it a few weeks back. This orzo salad has everything you could ever want: fresh herbs and veggies, tender orzo pasta, salty feta cheese, and plenty of savory elements from olives and pepperoncini.
Okay, anyone else drooling just thinking about this combo?? Same.
The orzo salad is tossed in a light Italian dressing made with super simple ingredients and the flavors tie everything together so beautifully. Like most pasta salads, this one keeps in the fridge for days so you can easily make it ahead of time for a party or store leftovers for meal prep. Get this one on your summer menu ASAP!
Ingredients:
For the dressing:
1/4 cup olive oil
3 tablespoons lemon juice
1 clove garlic, finely minced
1 teaspoon dijon mustard
½ teaspoon dried oregano
½ teaspoon salt
Freshly ground black pepper
For the salad:
10 ounces orzo
1 1/2 cups halved cherry or grape tomatoes (we love heirloom cherry tomatoes)
2 persian cucumbers, sliced and quartered (or 1 cucumber, sliced and quartered)
1 red bell pepper, diced
1/2 cup pitted chopped or sliced kalamata
1/2 cup pitted chopped or sliced green olives
1/3 cup sliced pepperoncinis
1/4 cup thinly sliced red onion
½ cup feta crumbles
⅓ cup chopped fresh basil
¼ cup chopped fresh parsley