Almond Flour Cookies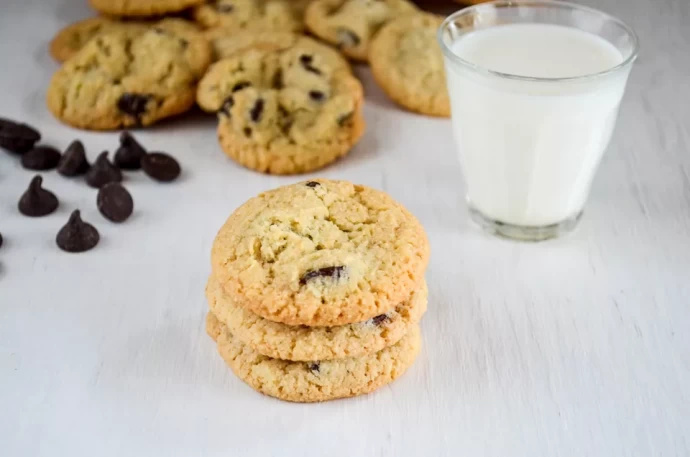 These almond flour chocolate chip cookies are a low carb and gluten-free variation on classic chocolate chip cookies, making them a sweet treat for all to enjoy, regardless of dietary needs and preferences.
The dough is made like traditional chocolate chip cookie dough with the exception of using almond flour in place of all-purpose wheat-based flour. If you're confused about the difference between almond meal and almond flour when shopping for ingredients, know that they are essentially the same in how they function in the recipe. The difference is visual and sometimes a matter of preference.
Once mixed, this cookie dough is quite soft. This is because almond flour absorbs the wet ingredients differently than regular flour, resulting in a lighter textured dough. These cookies spread a lot while baking so be sure to leave space between each scoop to prevent them from sticking together as they bake. You'll know they're ready to come out of the oven when the edges are very barely golden (the centers will still be puffed slightly). After cooling, you'll be rewarded with a thin, crispy, slightly chewy chocolate chip cookie, worthy of an ice-cold glass of milk for dunking.
Ingredients:
2 1/4 cups almond flour
1/2 teaspoon baking soda
1/2 teaspoon baking powder
1 teaspoon fine sea salt
1 stick butter (softened)
1 cup granulated natural cane sugar
1 large egg
1 teaspoon vanilla extract
1 1/2 cups chocolate chips