Triple Berry Ice Cream Cake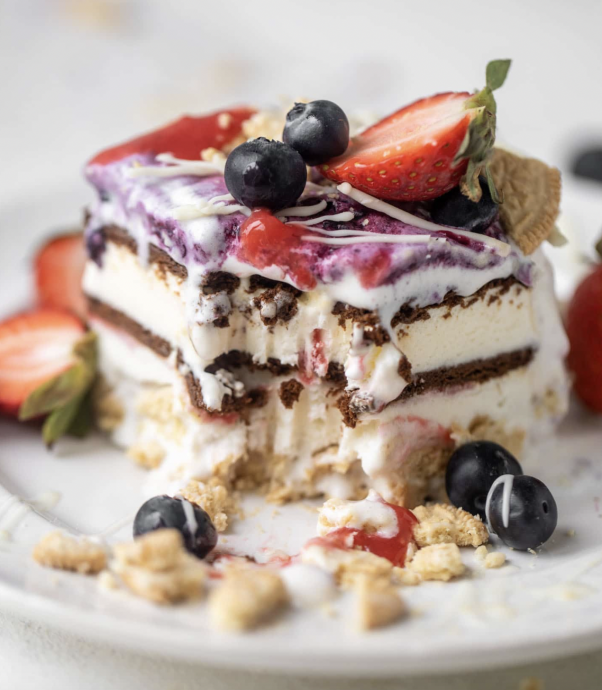 This triple berry ice cream cake is perfect for a summer holiday dessert! It's red, white and blue, cold and refreshing, delicious and must be made ahead of time. Serves a crowd – who always enjoys it!
This triple berry ice cream cake is the perfect dessert to serve for the fourth of July. It's red white and blue, chilled and refreshing for the hottest of summer days and uses lots of fresh, vibrant berries. It is a hit every time!
The ice cream cake can't be beat, because you make the ENTIRE thing ahead of time. The whole thing, aside from maybe a drizzle of chocolate and sprinkle of cookies. It's very easy and a great thing to bring to a party (as long as there is freezer space!) because it appears fancy, tastes fabulous and serves a crowd.
Ingredients:
Blueberry sauce
1 cup blueberries
¼ cup sugar
1 lemon, juiced
1 tablespoon flour
1 tablespoon water
Strawberry sauce
2 cups chopped strawberries
1 cup fresh raspberries
¼ cup sugar
1 lemon, juiced
1 tablespoon flour
1 tablespoon water
Ice cream cake
1 14 oz package of vanilla sandwich cookies, like golden oreos, plus more for topping
½ gallon vanilla ice cream
12 classic rectangle ice cream sandwiches
6 ounces white chocolate
1 tablespoon coconut oil
Fresh berries, optional for serving
Fresh mint, optional for serving