Cornbread Chili Skillet Pie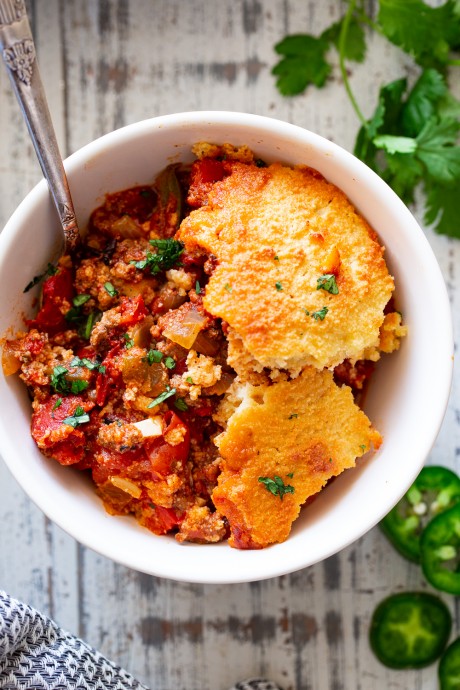 This grain free cornbread chili skillet pie is the ultimate healthy comfort food! A quick hearty beef chili is topped with paleo "cornbread" and baked to bubbly perfection. It's gluten free, dairy free, grain free and paleo friendly. This family favorite is perfect to add a little cozy warmth to cold winter nights!
Make sure to tweak the cornbread recipe to make it simpler (fewer flours) and the perfect amount to top the chili. Plus a little bit less sweet to better complement the hearty, savory chili.
The result will be even better than you imagine! A super simple paleo skillet chili recipe topped with a one-bowl faux-cornbread topping that will WOW everyone you serve it to! I hope you're ready for a seriously crave-worthy dinner that's going to impress even the pickiest eaters! Grab all your ingredients and your favorite big skillet because it's time to cook – let's go!
Ingredients:
1 Tbsp avocado oil or olive oil
1 medium onion chopped
1 red bell pepper chopped
1 green bell pepper chopped
1 jalapeno pepper seeded and minced
3 cloves garlic minced
1 lb ground beef grass fed
1 tsp cumin
1 tsp smoked paprika
2 tsp chili powder
1/4 tsp chipotle powder
Sea salt and black pepper to taste
28 oz can diced tomatoes
3 Tbsp tomato paste
2 large eggs at room temperature
1/3 cup full fat coconut milk
1 tsp fresh lemon juice
3 Tbsp raw honey melted
1/3 cup ghee or vegan butter, melted
2 cups blanched almond flour
1 Tbsp coconut flour
1 tsp aluminum free baking powder or make your own paleo baking powder
1/4 tsp fine sea salt
Minced cilantro for garnish