Cherry Tomato Caprese Salad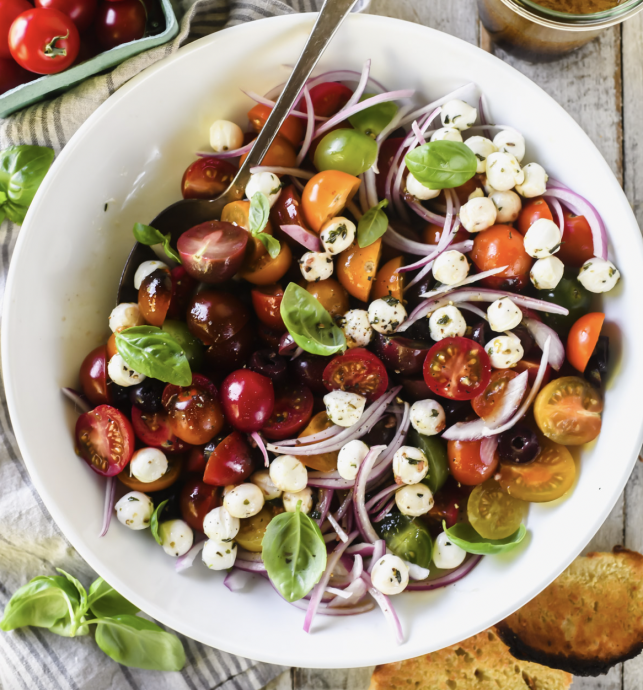 My cherry tomato caprese salad with slivers of red onion, Kalamata olives, and a red wine vinaigrette is the little black dress of summer side salads ~ it goes with everything!
This fun salad is a nice alternative to heavier pasta or potato salads, and works just as well as a side for everything from steak and burgers to quiches and sandwiches. If you're somebody who ogles colorful cherry tomatoes when you see them in the supermarket or farmers markets (raising hand!) this salad is for you. Of course you can make it with all red toms, but the multi-colors are glorious.
A caprese ('in the manner of Capri') salad is composed of tomatoes, mozzarella cheese, and basil; usually sliced and layered on a plate. But the combination is so brilliant it's been translated into sandwiches, pizzas, and all sorts of recipes.
Ingredients:
1/4 cup extra virgin olive oil
1 1/2 Tbsp red wine vinegar
1 clove garlic, minced
1/2 Tbsp olive brine
1/4 tsp sugar
pinch salt
salad
3 pints cherry tomatoes
4 ounces mini fresh mozzarella balls, perline (pearl size)
1/4 small red onion, thinly slivered
1/3 cup sliced kalamata olives
fresh basil leaves
freshly cracked black pepper