Reese's Chocolate Chip Cookies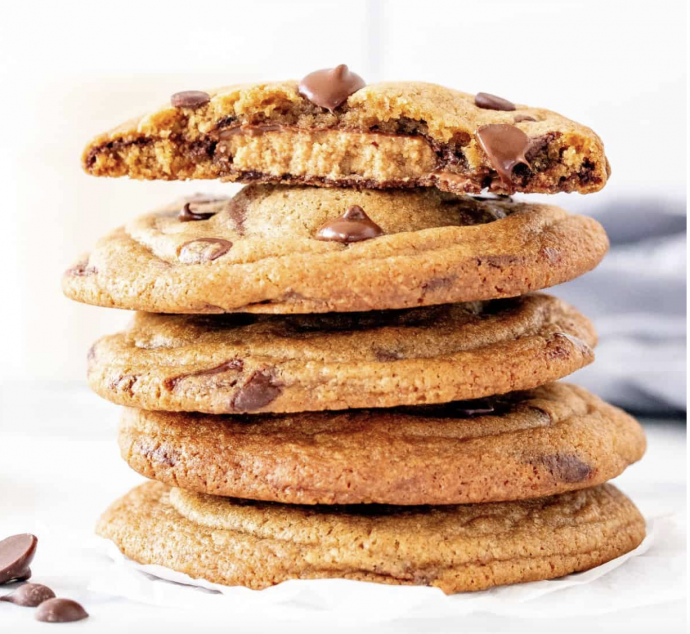 Big, chewy chocolate chip cookies stuffed with an entire peanut butter cup – these cookies are over the top. Take your milk to the next level with these Reese's chocolate chip cookies! Chilling the dough twice is absolutely necessary. The first chill ensures that the dough isn't too sticky. The second chill ensures that the cookies bake as balls instead of spreading too thin.
I like using a combination of mini and regular chocolate chips or exclusively mini chocolate chips for this recipe. I find using entirely regular-sized chocolate chips makes it harder to wrap the peanut butter cups in cookie dough.
I recommend using a 1.5 tablespoon cookie scoop for this recipe.
Make sure that the peanut butter cups are horizontal when placing the dough balls on your cookie sheet so that the cookie dough balls bake properly. If they're vertical the cookies will spread too thin.
Ingredients:
¾ cup unsalted butter (168 grams) softened
¾ cup brown sugar (150 grams) light or dark
¾ cup granulated sugar (150grams)
1 large egg
2 teaspoons vanilla extract
2 cups all-purpose flour (150 grams)
¾ teaspoon baking soda
¼ teaspoon salt
1 cup chocolate chips I used ½ cup mini and ½ cup chocolate chips
15 peanut butter cups