Seared Polenta Rounds With Ratatouille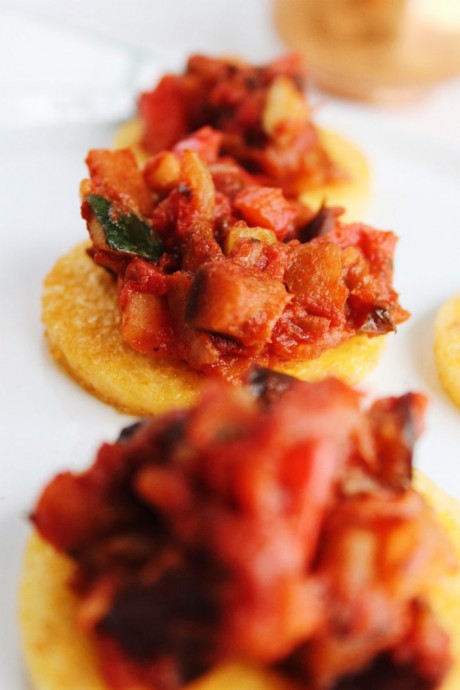 Seared polenta rounds with ratatouille are easy to make and come together quickly. Prepared polenta gets a quick fry in olive oil to form a bed for a flavorful and healthy ratatouille. These polenta rounds with ratatouille are a bruschetta of sorts. Instead of a baguette, a seared polenta round forms the bottom, with a slightly crisp exterior and soft, buttery center. A simple and flavorful ratatouille crowns the polenta rounds.
I like to think of these as a winter bruschetta, since they are served warm and replete with comforting, savory Italian flavors. Not to mention: these polenta rounds with ratatouille are so easy. You can simply buy prepared organic polenta and slice the cylinder into 1/2″ rounds. The rounds get seared in olive oil until browned and crisp. Meanwhile, ratatouille bubbles away on the stove, full of onion, garlic, eggplant, zucchini, thyme, oregano, red bell pepper, and tomato sauce.
Ingredients:
2 18-ounce tubes prepared organic polenta
Olive oil
Fresh basil
For the ratatouille:
3 tablespoons olive oil
1 small yellow onion, diced
2 cloves garlic, minced
1 red bell pepper, diced
1 medium eggplant, diced
1 zucchini, diced
1 23-ounce jar tomato sauce
1/4 teaspoon each dried oregano and dried thyme
Sea salt and pepper