Lasagna Soup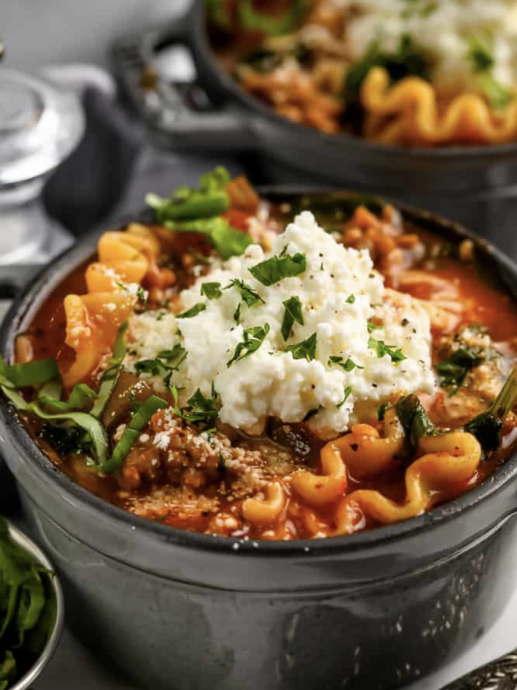 This easy lasagna soup is jam-packed with zesty flavor and full of Italian sausage and pasta in a rich tomato broth.
This soup has all of the flavors of our favorite homemade lasagna recipe but is made in just one pot. Serve topped with ricotta and fresh herbs for the perfect meal on a chilly day! There are so many reasons we love this dish aside from the fact that it is absolutely full of flavor.
It uses mainly pantry ingredients we always have on hand.
Any ground meat can be used (including homemade Italian sausage or leftover taco meat)
The entire meal is made in just one pot.
No need to pre-cook lasagna noodles or layer in a casserole dish.
This Lasagna soup can be made in the Crock-Pot or the Instant Pot.
It can be made ahead and freezes well (just add the pasta once thawed).
Ingredients:
1 pound Italian sausage
1 large onion diced
4 cloves garlic minced
14 ounces crushed tomatoes
28 ounces diced tomatoes undrained
4 cups low sodium beef broth
1 green bell pepper diced
1 ½ teaspoons dried basil leaves
½ teaspoon Italian seasoning
½ teaspoon seasoned salt
½ teaspoon black pepper
8 lasagna noodles broken
1 ½ cups fresh spinach chopped
toppings as desired see notes for options