Grilled Steak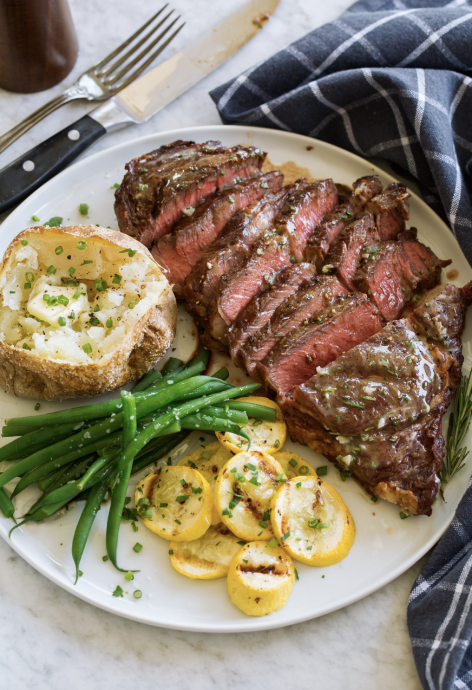 Perfectly Grilled Steak – it's the ultimate meat to serve at a backyard cookout and there's hardly anything to it. With this easy method you'll end with beautifully sear marked steak, a juicy and tender interior and a glossy buttery finish.
Grilled steak is an essential summer food, truly a highlight to the best backyard dinners.
Cooking steak on the grill keeps the heat out of the house and the smokiness outside so it's nice when you've got company to feed.
It's also a great option when you've got a handful of people to serve because of the obvious fact that on a grill there's a lot more space to work with, while indoor pan searing only allows space for cooking 1 to 2 steaks at time. Just plan a a little bit of extra time to let the steaks rest before you grill them.
Then to complete the steaks you can finish with a classic potatoes side of some sort (these are my personal favorite) and other fresh vegetables to bring some nutrition to the meal (and you might as well grill those veggies while you've got it going). And if you want to go all out serve them with warm dinner rolls and fresh jam like they do at the homestyle steakhouses.
Ingredients:
2 (1 lb. each) ribeye steaks,* 1 1/4 to 1 1/2-inches thick
1 1/2 tsp kosher salt, or as desired
1 tsp freshly ground black pepper
4 Tbsp butter
2 tsp minced fresh rosemary**
3/4 tsp minced fresh garlic