Honey Mustard Chicken Salad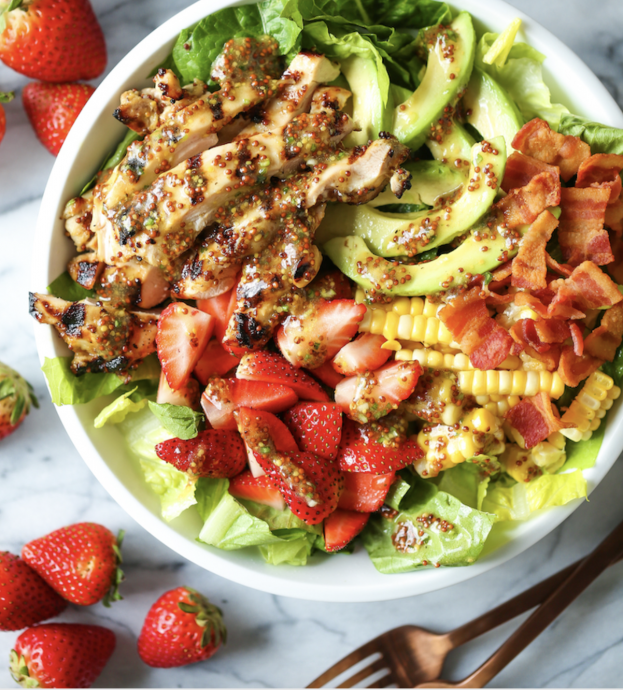 Made with the juiciest, tender honey mustard chicken, romaine, strawberries, avocado and corn. And the dressing is perfection!
I'm even going to fire up that grill this weekend to make the cilantro lime chicken and this honey mustard chicken.
I'm not entirely sure which to make first. Probably this honey mustard variation. Because hello, we have greens!
We have crisp romaine, fresh strawberries, velvety avocado slices, and sweet, juicy corn kernels. Oh and the salty, crispy bacon bits. Can't forget about those.
My favorite part is that we get to use the dressing for the marinade as well, killing 2 birds with one stone. Not to mention, the chicken thighs comes out so stinking juicy and tender!
Ingredients:
1/3 cup whole grain Dijon mustard
3 tablespoons extra virgin olive oil
1 1/2 tablespoons honey
1 tablespoon white balsamic vinegar
2 green onions, thinly sliced
Kosher salt and freshly ground black pepper, to taste
1 pound boneless, skinless chicken thighs
1 tablespoon canola oil
4 slices bacon, diced
1 head romaine, roughly chopped
1 1/2 cups quartered strawberries
1 avocado, halved, seeded, peeled and sliced
1 cup corn kernels, canned or roasted