Easy Pork Fried Rice with Vegetables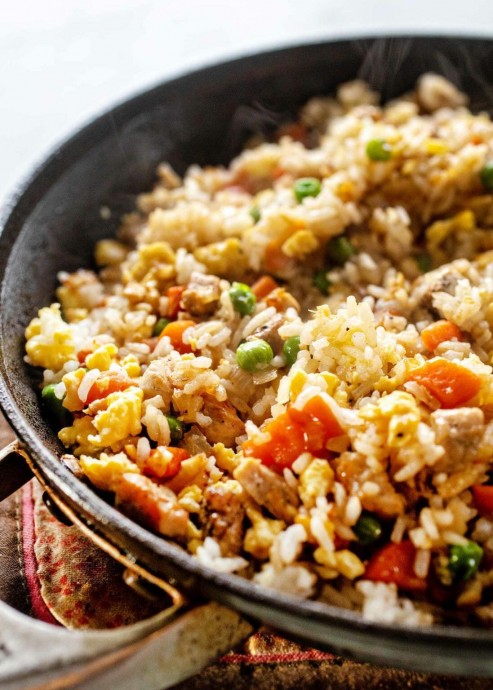 You can make this Easy Pork Fried Rice any time of the year thanks to frozen vegetables. Add them straight from the freezer to your skillet. Want to use frozen rice? That makes dinner even easier! Even when there's "not much" in the fridge, I can usually scrounge together enough ingredients to make a fried rice happen! This fried rice recipe requires a tiny bit more planning because of the pork, but otherwise, it calls for ingredients you most likely already have on hand, like frozen peas and frozen carrots.
Frozen peas and carrots make it easy to make this fried rice any time of the year – just add the vegetables straight from the freezer to your skillet when you get to that step. I still recommend chopping an onion and a little garlic and ginger and adding that as well; it really adds to the flavor of the fried rice! For this recipe you can use frozen rice, and you can also use leftover cooked rice or fresh rice. If you are using fresh rice, spread it out on a baking sheet before frying and make sure it is completely cool. This ensures the grains separate and the rice won't clump together. Perfect for dinner and kids-friendly recipe!
Ingredients:
3 cups cooked rice, fresh or frozen
10 ounces lean pork loin, diced into 1/2-inch cubes
1/4 teaspoon salt
1/4 teaspoon black pepper
1/4 cup vegetable oil, divided
1/2 white onion, chopped
2 cloves garlic, minced
2 inches fresh ginger, minced or grated
1 cup frozen carrots and peas
3 large eggs, scrambled
1 tablespoon soy sauce
For the Chili Sesame Oil:
2 tablespoons toasted sesame oil
1 teaspoon chili oil
1/4 teaspoon red pepper flakes
Pinch of sesame seeds