Orange Cookies With Glaze Recipe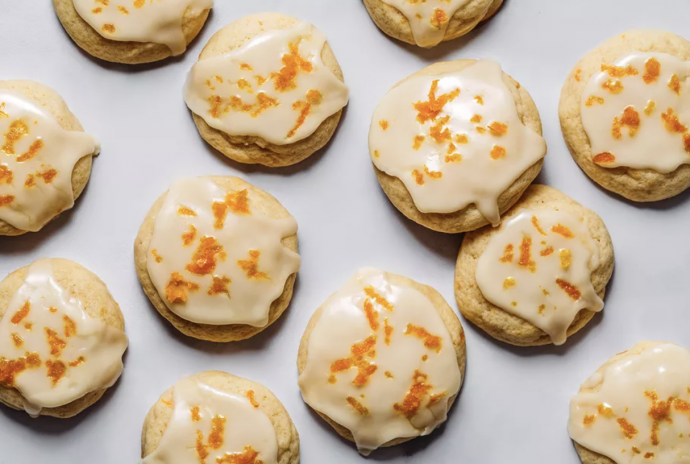 The scent of these orange cookies alone is worth the effort! Your home will be filled with the aroma of orange and sugar, perfect for getting family and friends in the holiday spirit. With orange juice and zest in the cookie dough and icing, there's plenty of citrus flavor in this dessert.
If you prefer a slightly thicker glaze that will sit on top of the cookie and not drip down, just omit the water called for in the glaze recipe. Alternatively, you can make a thinner glaze by adding one to two tablespoons of water so the glaze falls over the entire cookie and drips off in a thinner drizzle. The cookies also stand on their own, so if you prefer to skip the glaze altogether that's fine, too. Either way, these cookies are sure to be a family favorite for years to come.
Ingredients
For the Cookies:
Cooking spray
3 cups all-purpose flour
1 teaspoon baking powder
1/2 teaspoon kosher salt
1 cup granulated sugar
1/4 cup light brown sugar
2 tablespoons orange zest, plus more garnish
1 cup (8-ounces) unsalted butter, room temperature
1/4 cup freshly squeezed orange juice
2 teaspoons pure vanilla extract
1 large egg
For the Glaze:
2 cups confectioners' sugar, sifted
2 tablespoons freshly squeezed orange juice
1 tablespoon water
1 teaspoon pure vanilla extract