Frozen Strawberry Pie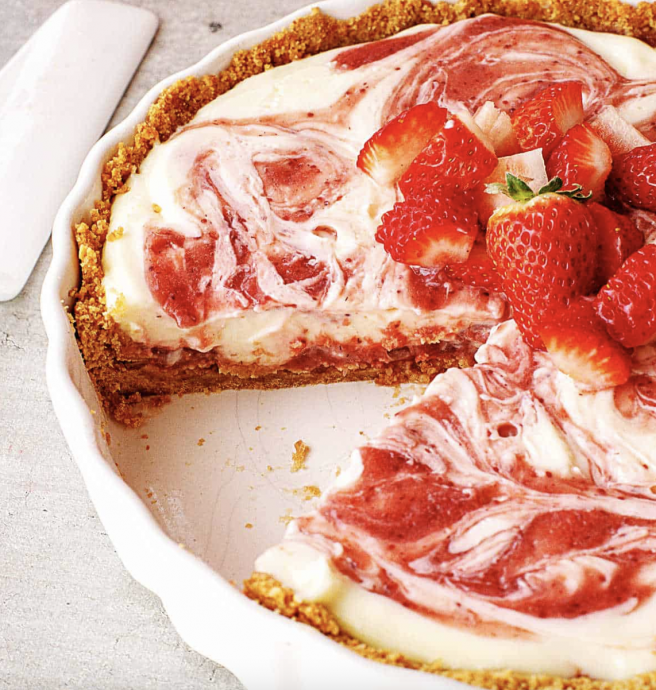 This is a wonderfully easy, no-bake strawberry dessert, similar to an icebox pie. It has a graham cracker crumb crust, a layer of strawberry sauce, and condensed milk in the filling. You can have it frozen for a month or more, so it's perfect to plan ahead. Around here it's a crowd-pleaser and we make it often during the strawberry season.
Summer calls for fruit pies and berry ones are a staple here. From the popular strawberry pie with jello to my grandmother's strawberry cream pie, we love them and make them often in spite of the hot weather.
This frozen strawberry pie is made for Summer eating with its no-bake crust and filling. It's sweet, fresh, and creamy. And who doesn't love strawberries and cream cheese, right?
Plus, it only needs a few chopped strawberries on top to serve. No need to have ice cream or whipped cream ready. It's great on its own.
Ingredients:
For the crust:
1 ¾ cups graham cracker crumbs
2 tablespoons brown sugar
½ cup butter
For the filling:
8 oz cream cheese
1 can (14oz) of condensed milk
3 tablespoons lemon juice
½ teaspoon vanilla extract
2 ½ cups strawberry sauce or strawberry pie filling
Fresh strawberries, to serve