Spicy Peanut Tofu Bowls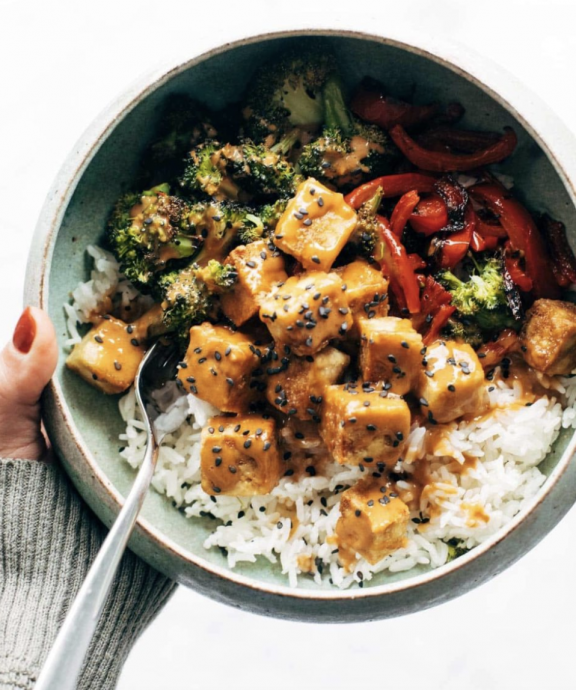 These Spicy Peanut Tofu Bowls are a meal prep / weeknight dinner life-saver! Crispy tofu, roasted veggies, fluffy rice, and a spicy sweet peanut sauce all over top.
If you asked me what I eat when I'm just being regular me in my regular life, like, not trying to make anything impressive for a blog or a brand partner or a cool Instagram picture, I would say peanut tofu bowls.
This has been my real-life meal prep lifesaver over the last few months.
And it is complex in salty-sweet flavor and sticky-crunchy texture, and loaded with nutritious good stuff, but also quite simple.
Ingredients:
Tofu:
2 blocks of extra firm tofu
1–2 tablespoons cornstarch
olive oil and salt
2 small (or 1 large) head of broccoli, cut into florets
2 red bell peppers, cut into strips
1 1/2 cups uncooked rice
Peanut Sauce:
1/2 cup peanut butter
1/3 cup low sodium soy sauce
2 tablespoons sesame oil (toasted or dark)
2 tablespoons rice vinegar
2 tablespoons sambal oelek or chili paste (this is where the "spicy" comes in, so add to taste)
2 tablespoons sugar, honey, or agave
a small knob of fresh ginger, peeled
a clove of fresh garlic, peeled
1/4 cup water