Creamy Cucumber Salad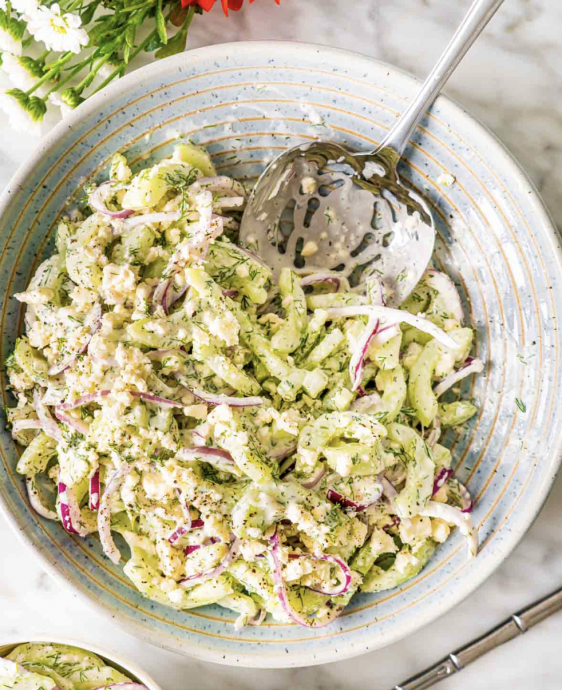 This easy Creamy Cucumber Salad recipe with onion is quick, refreshing, and bursting with fresh dill. With just a couple minutes of prep and minimal cleanup, you just might want to enjoy this delicious side dish as a whole meal.
This recipe is for all of us who are obsessed with cucumbers! They're mildly flavored with that perfect crunch. If you sit back and just crave a bowl of cucumber some days, you're not alone! This is the best way to enjoy such a wonderful veggie. While this salad is the ideal summer salad, it's also a salad that's perfect for any time of the year.
My ideal creamy cucumber salad is not complete without some fresh onion and dill. While keeping the ingredients nice and simple, these two add so much lovely flavor without completely overpowering the refreshing qualities of this salad.
As a matter of fact, my favorite part about this salad is all the dill! I love dill and it's so perfect in a salad like this. So now that I have you hooked, let's get started!
Ingredients:
Creamy Dressing
½ cup Greek yogurt
¼ cup mayonnaise
2 tablespoon white vinegar
1 teaspoon sugar granulated
¼ teaspoon salt or to taste
½ teaspoon pepper or to taste
Cucumber Salad
2 English cucumber seeds removed, sliced
1 small red onion sliced thin
¼ cup dill fresh, chopped
½ cup feta cheese