Quinoa Pizza Bites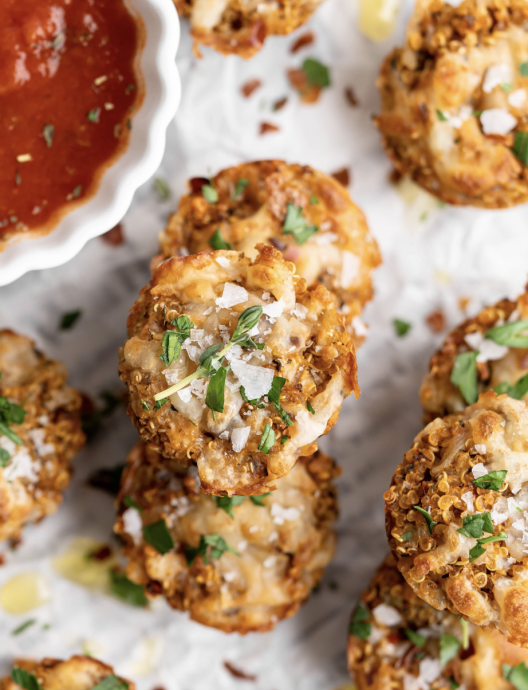 These easy Quinoa Pizza Bites will satisfy your pizza cravings in a healthy way. They're protein-packed, delicious, and great for parties! (Oh, and did I mention they're vegan too?!)
Quinoa is delicious as a base for stir fries and Buddha bowls, but if you really want to level up, you can use it to make easy, cheesy vegan Quinoa Pizza Bites.
Just like my Cauliflower Pizza Bites, these bite-sized snacks are perfectly chewy and have all the classic pizza flavours you love. It's pretty much impossible to eat just one, and that's just fine because they're healthy. You can go to town on these!
The other thing I love about this recipe is that it's versatile. Serve it alongside Sticky Sesame Cauliflower Wings or Loaded Sweet Potato Skins for a game day spread, or tuck them into meal prep lunches with a simple side salad. Kids love them, they're freezer-friendly, and they're easy enough to make for a weeknight meal. So many wins!
Best of all, you can customize these Quinoa Pizza Bites with all your must-have pizza toppings. I share some of my favourite ideas below!
Ingredients:
1 cup cooked quinoa
½ cup vegan shredded cheese + 2 tablespoons for topping
1 flax egg
¼ teaspoon salt, to taste
½ teaspoon ground pepper
3 tablespoons marinara sauce
½ teaspoon garlic powder
3 teaspoons italian seasoning
¼ teaspoon crushed red pepper flakes, optional
marinara sauce, for dipping