Perfect Southern Caramel Cake Recipe (with Salted Caramel Frosting)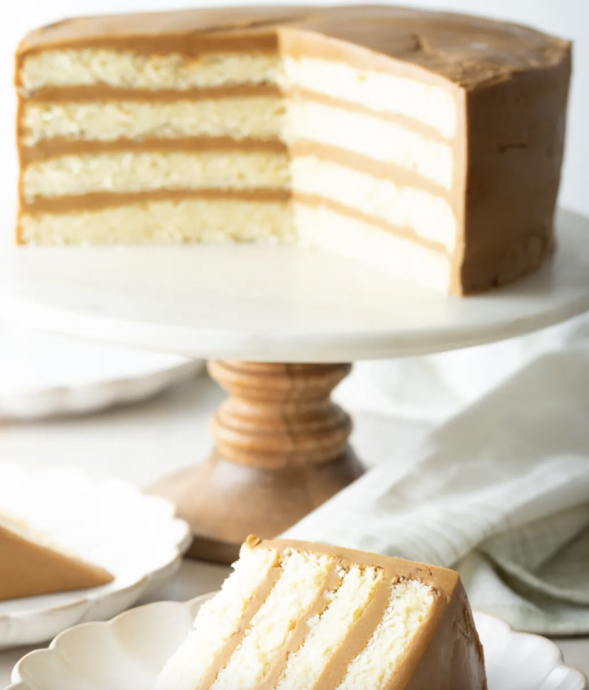 Perfect Southern Caramel Cake – This recipe features tender white cake and thick, luscious layers of the most decadent Salted Caramel Frosting. There are some restaurant dishes that are so good, you simply have to try making them at home for yourself.
A bit of backstory: We love this little seafood restaurant in Hilton Head called Charlie's. Although we go for the fresh fish entrees, the Caramel Cake is a MUST at the end of every meal. It includes four layers of a lovely simple white cake, with a dense fudge-like caramel frosting in between each of the four layers.
Ingredients:
For the Vanilla Cake:
3 cups cake flour (or 2 ¾ cups all-purpose flour + ¼ cup cornstarch)
2 teaspoons baking powder
½ teaspoon baking soda
1 teaspoon salt
1 ¾ cups granulated sugar
¾ cup unsalted butter softened (1 ½ sticks)
2 large eggs + 1 egg white
1 2/3 cup buttermilk
1 tablespoon vanilla extract
For the Caramel Frosting:
4 cups granulated sugar
2 cups buttermilk
2 cups unsalted butter (4 sticks)
2 teaspoons baking soda
1 teaspoon salt
2 teaspoons vanilla extract