Chicken Flautas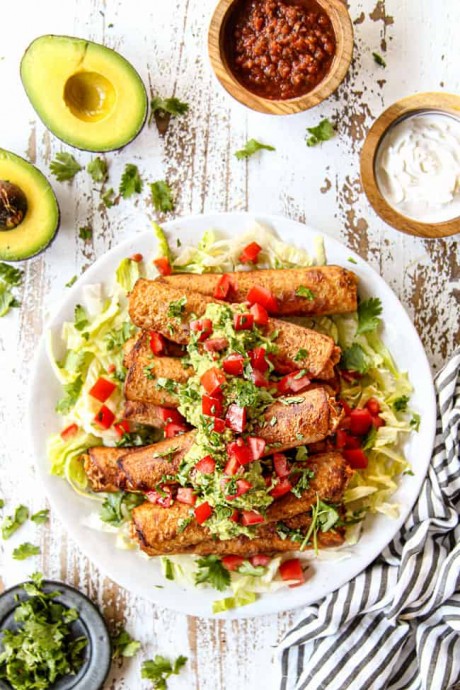 These flautas are about to become your family's favorite quick and easy dinner, appetizer or snack! Flour tortillas are stuffed with fiesta spiced chicken, cheese, salsa and sour cream, rolled up then fried or baked to golden, crispy perfection. You can also swap the chicken for other favorite proteins such as beef barbacoa, carnitas, crockpot Mexican etc. Serve the flautas with shredded lettuce, salsa and guacamole and prepare to fall in love! These chicken flautas can also be made and frozen for later – all instructions included!
This flautas recipe is so insanely delicious, it will have everyone excited for dinner – again, and again and again. From the juicy chicken, to the creamy sour cream, to the layers of spices, to the bubbly cheese, to the golden, crispy tortillas – these chicken flautas are perfection. They are simple yet irresistibly delicious dinner made with pantry friendly ingredients perfect for busy weeknights. Flautas are an iconic Mexican street food, antojitos Mexicanos, that can be served as a snack, appetizer, or a main dish because they are so good!
Flautas are often served with shredded iceberg lettuce, chopped or sliced tomatoes, sliced avocados or guacamole, sliced onions, sour cream, queso fresco or cotija, and salsa but you can serve them with anything your belly desires. These chicken flautas are easy, cheesy, shatteringly crispy and on your table in 30 minutes!
Ingredients:
1/2 cup salsa (medium or hot for more of a kick)
1/2 cup sour cream
4 oz. can mild chopped green chiles
2 teaspoons chili powder
1 tsp each ground cumin, garlic powder
1/2 tsp each onion powder, smoked paprika dried oregano, salt
3 cups shredded cooked chicken I like to use rotisserie chicken
1 cup freshly shredded Monterrey Jack cheese
1 cup freshly shredded sharp cheddar cheese
Cayenne pepper or hot sauce to taste
12-14 medium (7-8-inch) flour tortillas
Vegetable oil (optional for frying)