Summer Stone Fruit Couscous Salad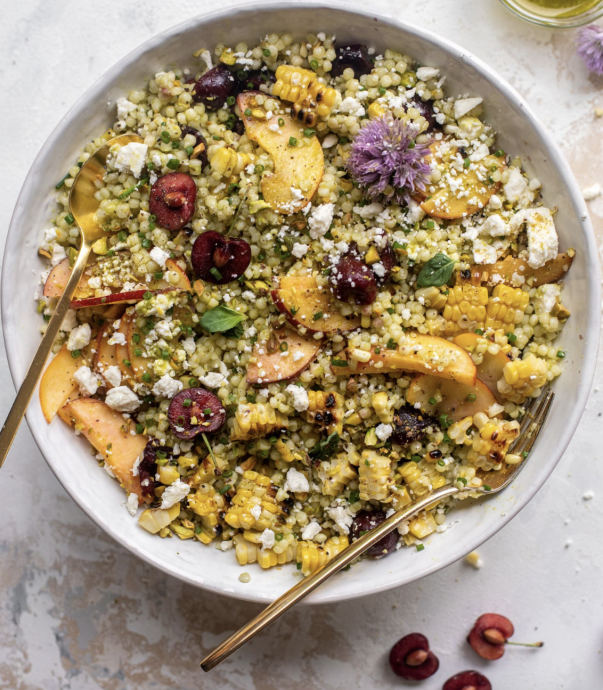 This stone fruit summer couscous salad is a lovely lunch, BBQ potluck dish or light dinner to enjoy when it's warm out. Juicy stone fruit, couscous tossed with an herby lime dressing, grilled corn, feta and pistachios make this one incredible bowl.
This summer stone fruit couscous salad is tossed with an herby, citrusy vinaigrette and then topped with peaches, cherries, grilled corn, crumbly feta and chopped pistachios. It's no secret that I love bowls like this but WOW. This is a good one.
See, you can't go wrong with couscous. It's chewy and has a wonderful texture, but tiny enough to be enjoyed grain bowl-style. I love to use pearl couscous for the base of this salad, toss it with some of my favorite cilantro lime dressing until it's a vibrant green shade and then throw in allll the summer produce.
Ingredients:
3 cups cooked couscous, 1.5 cups dry
2 to 3 ears of sweet corn on the cob
2 peaches, thinly sliced
1 cup cherries, pitted and sliced
⅓ cup crumbled feta cheese
⅓ cup chopped roasted pistachios
3 tablespoons chopped fresh chives
CILANTRO LIME VINAIGRETTE
3 tablespoons freshly squeezed lime juice
1 1/2 tablespoons honey
1/4 cup fresh cilantro
2 garlic cloves, minced or pressed
kosher salt and pepper
Pinch crushed red pepper flakes
1/3 cup extra virgin olive oil