Avocado Peach Salsa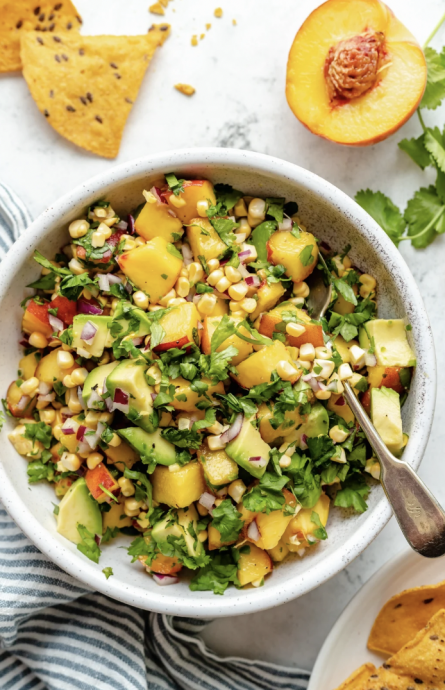 Beautiful avocado peach salsa made with fresh, juicy peaches, creamy avocado, sweet corn and a kick of heat from jalapeño. This bright and flavorful peach salsa recipe is delicious served with your favorite tortilla chips or paired with salmon, fish tacos and more!
Are you ready for another incredible recipe using tons of fresh summer produce? Good, because this gorgeous avocado peach salsa is packed with a rainbow of produce that will have you doing backflips for more.
I originally made a version of this salsa to top my famous firecracker salmon and found that I was adding it to literally everything. Grilled chicken, fish tacos, in burrito bowls, and just eating by the spoonful because it's THAT GOOD.
The flavors are perfectly balanced: sweet, a little spicy, tangy and so fresh. It's super easy to customize with what you have on hand, too, so have fun with the flavor combos! Serve it up at your next BBQ or the next time you need an easy appetizer or side to go with your favorite proteins.
Ingredients:
2 medium ripe but still slightly firm peaches, diced
1 ripe but still slightly firm large avocado, diced
1 large ear corn, kernels cut off (about ¾ cup corn)
3 tablespoons finely diced red onion
1 jalapeño, seeded and diced
2 tablespoons finely diced cilantro
1 lime, juiced
Salt & freshly ground black pepper, to taste