Niçoise Tuna Salad With Dijon Dressing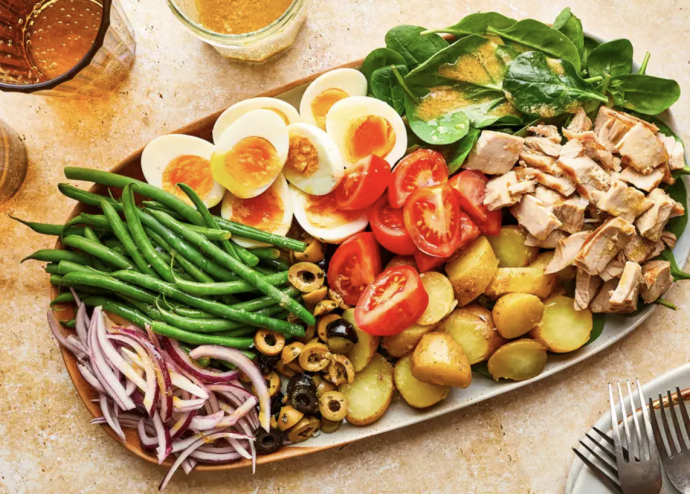 The beauty of a Niçoise salad is in the combination of its ingredients. It's simple, but as with most simple things, the quality of the ingredients is paramount. For this basic salade Niçoise, use good quality fresh tuna and don't overcook.
Tuna steaks are used in this recipe, and they're great for grilling because tuna can dry out very quickly. It takes well to a quick sear over high heat, which often leaves the middle medium-rare. It sounds paradoxical, but it's true: It's easy to overcook tuna but not hard to get it right if you're paying close attention.
The flavors of the Dijon dressing, chopped olives, and lightly grilled tuna combined with the potatoes, eggs, and green beans make this a perfect dinner salad, especially for summer. It's also great for brunch. The hard-boiled eggs in this recipe can be cooked several days in advance and kept in the refrigerator until you're ready to assemble the salad.
Ingredients
16 ounces fresh tuna fillets, or tuna steaks
4 to 6 small new potatoes
6 ounces whole green beans, trimmed
4 cups spinach leaves
4 hard-cooked eggs, sliced
1 red onion, sliced
Handful olives, chopped
2 medium tomatoes, cut into wedges, for garnish
Dressing:
1/2 cup extra-virgin olive oil
1/4 cup red wine vinegar
1 clove garlic, crushed
2 teaspoons Dijon mustard