Grilled Peaches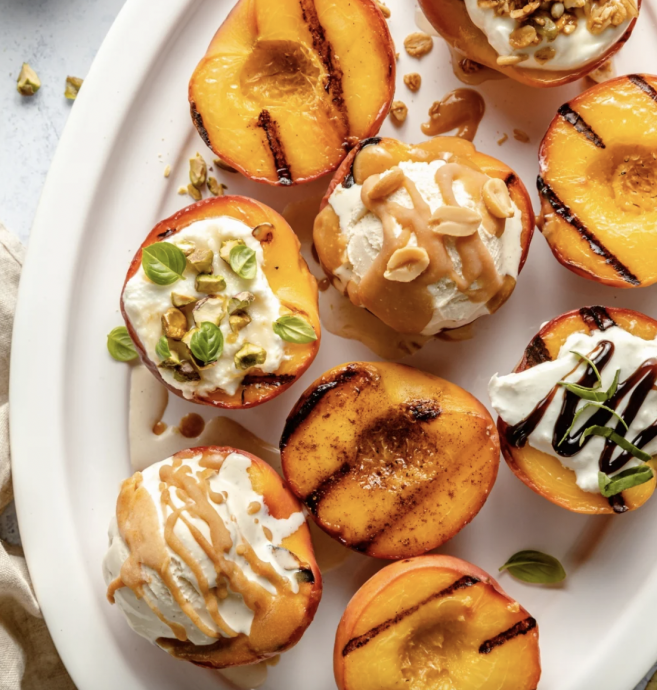 I've been meaning to share this incredibly easy recipe with you for years now and it's finally here! Because ya girl loves to grill, every summer I get so excited to grill up one of my favorite summer fruits: juicy, delicious peaches.
I know that grilling can be intimidating, so grilling fruit can feel extra *odd*. If you haven't yet, be sure to check out my full post here on how to grill literally any type of fruit. But first, stick around because you seriously need this recipe for grilled peaches in your life.
I love grilling peaches because not only does it bring out their natural juices and sweetness, but they're also the perfect vehicle for some incredible toppings. OH YES you know I went a little wild with some amazing ideas for toppings on these bad boys. You'll find 6 different toppings that will take your grilled peaches to the next level. Sweet and savory included! Each one is super unique and perfect for breakfast, snacks, and even dessert. Try one or try them all, and be sure to leave a comment with your fav!
Ingredients:
For the peaches:
4 ripe peaches, halved and pitted
Olive oil, for brushing the peaches
Topping ideas:
Peach Caprese
Burrata
Balsamic Glaze
Basil Ribbons
Salted Peanut Butter Caramel Sundae
Vanilla bean ice cream of choice
Salted Peanut Butter Caramel
Cinnamon Brown Sugar Topping*
1-2 tablespoons melted salted butter
1-2 tablespoons brown sugar
½ teaspoon cinnamon
Salted Brown Butter & Ice Cream
Vanilla ice cream
1-2 tablespoons butter, browned
Lemon Ricotta Pistachio**
Ricotta
Lemon zest
Salt, to taste
Chopped roasted pistachios
Drizzle of honey
Basil or arugula
Yogurt + Granola (breakfast version!)
Vanilla or plain greek yogurt
My favorite granola recipe
Drizzle of honey