Korean Style Spicy Sashimi Salad (Hwe Dup Bap)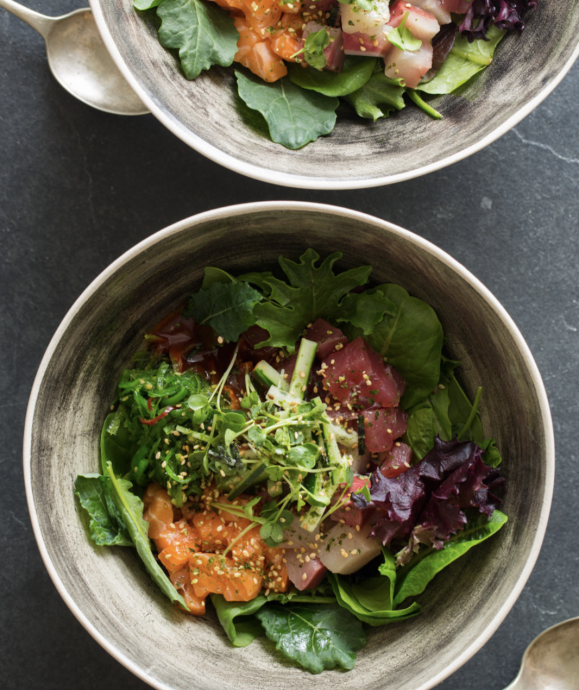 Today we have a traditional Korean dish for you, a Korean Spicy Sashimi Salad, better known as Hwe Dap Bap! What sets this dish apart from other sashimi salads is most definitely the spicy gochugang (spicy red pepper paste) and vinegar sauce! I also love that everything is vigorously mixed together before you start eating to make sure you get a little bit of everything in each and every bite!
I love how simple, yet totally satisfying this dish is and you can bulk it up with really anything you want! I generally like to keep mine a little simple and have only recently starting throwing in a little seaweed salad into the mix, which isn't really traditional. Really though, add whatever you want! That's the beauty of dishes like this, you can easily customize it to suit your own taste. Also, if you don't feel like making your own sauce, or you don't have the ingredients on hand nor do you want to buy them, you can pop in as a local Korean market and pick up a very inexpensive bottle of the sauce pre-made and ready to be drizzled on just about anything!
Ingredients:
1 cup cooked brown rice
4 cups mixed greens
4 ounces sashimi grade tuna, diced
4 ounces sashimi grade salmon, diced
4 ounces sashimi grade yellowtail, diced
½ cup thinly sliced cucumber
½ cup seaweed salad, optional
toasted sesame seeds
cho-gochugang recipe
¼ cup plus 1 tablespoon gochugang
3 tablespoons unseasoned rice wine vinegar
1 ½ tablespoons honey
2 teaspoons sesame oil
1 garlic clove, minced