Cheesy Spinach Stuffed Peppers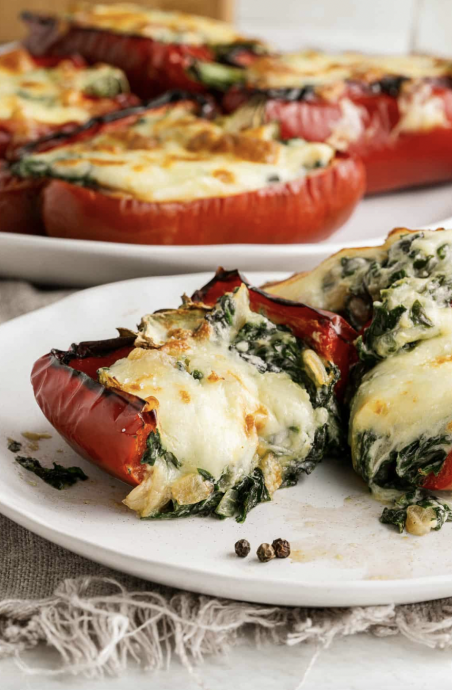 These Cheesy Spinach Stuffed Peppers are the perfect easy weeknight meal. Tender, roasted peppers, stuffed with a rich, creamy spinach filling, and topped with melty cheese. They are low carb, gluten free, and vegetarian. These stuffed peppers are delicious with yellow, red, orange, and green bell peppers. They are also delicious made with poblanos.
To make these in the air fryer, pre-cook the bell peppers in an air-fryer for 5 to 8 minutes at 375°F. Then cook the filling as per the directions. Stuff the peppers and pop them back in the air fryer for 10 more minutes.
Ingredients:
4 red bell peppers, halved and seeded
2 tablespoons olive oil
2 small yellow onions or 1 large, diced
4 garlic cloves, minced
4 cups fresh spinach or 14 ounces frozen spinach
1 teaspoon sea salt
½ teaspoon black pepper
⅛ teaspoon ground nutmeg
2 ½ cups shredded mozzarella cheese, divided
12 ounces ricotta cheese