Blue Cheese Coleslaw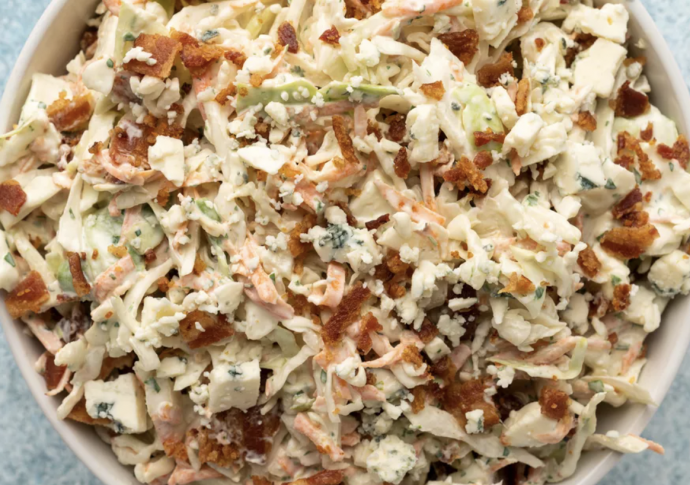 Blue cheese coleslaw is the creamy, crunchy side dish that your summer barbecue has been missing, especially if you're a fan of Cobb and wedge salads. With only a few ingredients, you'll be able to doctor up a bag of store-bought packaged slaw mix and wow at your next picnic or family gathering. This recipe calls for topping with crispy bacon crumbles for a nice added crunch, but it's perfectly delicious without it if you're entertaining vegetarians and vegans.
There are so many ways to use the slaw. Take your grilled burgers to the next level by topping them with the smoky coleslaw. It's also tasty with sweet barbecue pulled pork. Or load it on top of hot dogs, fish tacos, even fries. The slaw isn't just for cookouts—enjoy it at other times of the year on corned beef for an epic Rachel Sandwich. It's so versatile and delicious, you won't be able stop yourself from scooping more out of the bowl!
Ingredients
1/2 cup mayonnaise
1/2 cup sour cream
1/4 cup parsley
1 teaspoon Worcestershire sauce
1/4 cup buttermilk
1/2 teaspoon lemon juice
1 small clove garlic
1 cup blue cheese crumbles
1 (14-ounce) bag of coleslaw
1 cup bacon, cooked, chopped