Healthy Asparagus Soup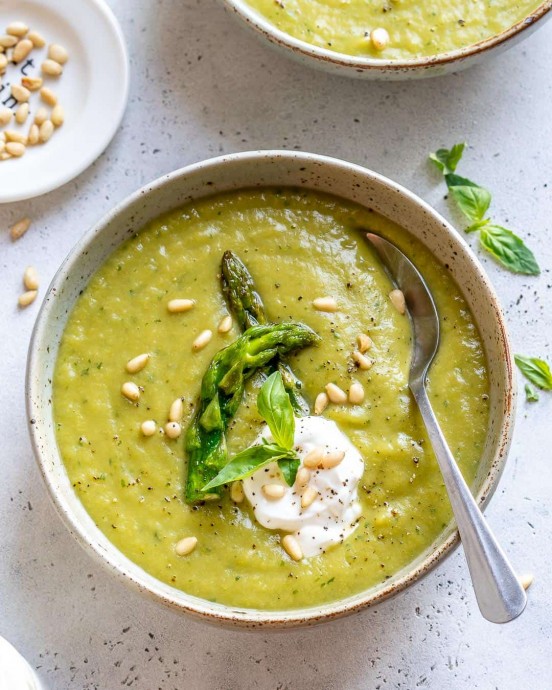 If you are looking for an asparagus soup with potatoes and without cream, this Healthy Asparagus Soup Recipe is just for you. A tasty vegetarian soup that's loaded with fresh asparagus, leeks, and potatoes, then topped with Greek yogurt for a silky smooth soup that is so delicious.
Love vegetable soups? This Asparagus Soup Recipe is vegetarian, healthy, and right up your alley. It is made with fresh asparagus, leeks, and potatoes, which are cooked until soft and then puréed until ultra-smooth and creamy. We love the extra flavor added with garlic, basil, and pine nuts, plus the cool and refreshing Greek yogurt served on top. Makes for a perfect addition to your dinner table and can easily be made vegan-friendly.
This asparagus soup is packed with vitamins and fiber from the potatoes, leeks, and asparagus. Plus it gets extra nutrients from the basil, pine nuts, and even Greek yogurt. It can be served throughout the year. This soup is creamy and hearty enough for a cold winter night, yet refreshing and light enough for an early spring day. This recipe cuts out the extra fat from heavy cream and replaces it with Greek yogurt for added protein. You can also serve it without yogurt for a dairy-free or vegan option. Try it and you will love it!
Ingredients:
1 tbsp extra-virgin olive oil
2/3 leek chopped (white and light green parts)
2-3 garlic cloves crushed
2 medium Yukon gold potatoes (about 12 ounces)
4 cups low-sodium vegetable broth or chicken broth
1.25 pounds asparagus ends trimmed
½ tsp kosher salt
¼ tsp black pepper
½ cup plain Greek yogurt
1 cup fresh basil leaves
2 tbsp pine nuts