Bacon Wrapped BBQ Chicken Bites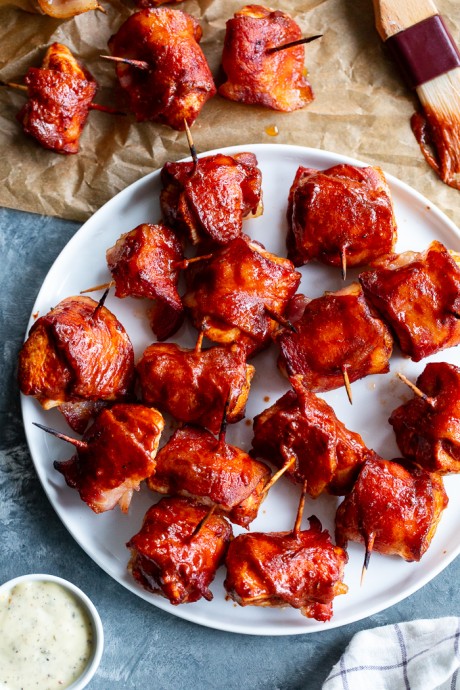 These Bacon Wrapped BBQ Chicken Bites are packed with flavor, easy to make and perfect party food! Smoky, savory little bites wrapped in crispy bacon and brushed with lots of BBQ sauce. Gluten free, dairy-free, sugar-free.
It's appetizer season! And whether you're hosting a party or want to whip up something to bring to a gathering, it's always nice to have something easy and of course tasty planned. No need to wait for the new year to eat clean – there are so many delicious options for the holidays too. Which brings us to today's recipe – healthy and delicious Bacon Wrapped BBQ Chicken Bites.
This recipe is simple and requires minimal ingredients. The BBQ sauce can be homemade, or store bought. To make this recipe healthier, you'll need to use a BBQ sauce without any added sugar. You can make your own at home with dates to sweeten. It's more work of course, but a great option if you can't get your hands on a store bought version. I hope you're ready for these amazing bacon wrapped BBQ chicken bites! Whether it's for a party or just because, I know you're going to love them!
Ingredients:
1 package Jones Dairy Farm No Sugar All Natural Uncured Hickory Smoked Bacon 8 slices, strips cut in half crosswise
1 lb boneless skinless chicken breasts cut into cubes (about 1", or 16 cubes)
Sea salt and black pepper
1/4 tsp onion powder
1/4 tsp garlic powder
1/4 tsp paprika
3/4 cup BBQ sauce homemade or store bought, divided