Classic Stuffed Mushrooms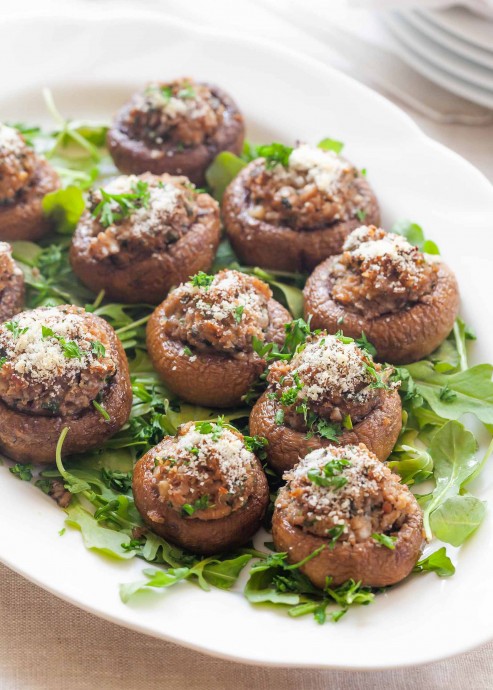 These classic stuffed mushrooms are loaded with shallots, garlic, walnuts, breadcrumbs, and chopped mushroom stems. Sprinkle with Parmesan and pop them in the oven and you've got a great appetizer for the holidays. A good stuffed mushroom recipe should be in every home cook's collection. They're easy to make, they're great for parties, and the variations are endless!
For this recipe you'll need simple regular button mushrooms or the brown creminis for the perfect stuffing. Look for mushrooms with dry caps and gills (the feathery part underneath). Avoid mushrooms that seem slimy or have sunken brown spots.
This stuffed mushroom recipe is a classic. It is what you usually think of when you think of stuffed mushrooms—walnuts, herbs, garlic, chopped mushroom stems, breadcrumbs, and grated Parmesan. Some of the substitutions include: sausages, chopped stems, Parmesan and garlic powder, Duck or goose pâté topped with a small piece of bacon, spinach, bacon, creamy chicken crab meat, and crackers.
There is a reason everyone loves this combination. These stuffed mushrooms are hard to stop eating! You can prepare the filling and stuff the mushrooms (without baking them) for up to 24 hours ahead. Just cover and refrigerate them, and then cook them right before serving. Once cooked, stuffed mushrooms do not hold up well for long periods.
Ingredients:
18 to 24 button or cremini mushrooms, scrubbed clean, stems separated from the caps, stems finely chopped
1 tablespoon butter
2 small shallots, minced, about 2 tablespoons
1 large garlic clove, minced
2 tablespoons chopped walnuts
Salt
2 tablespoons chopped parsley
1 teaspoon Herbes de Provence or dried thyme
2 tablespoons breadcrumbs
2 tablespoons sherry or chicken stock
2 tablespoons extra virgin olive oil
2 tablespoons grated Parmesan cheese