Mini chicken quesadillas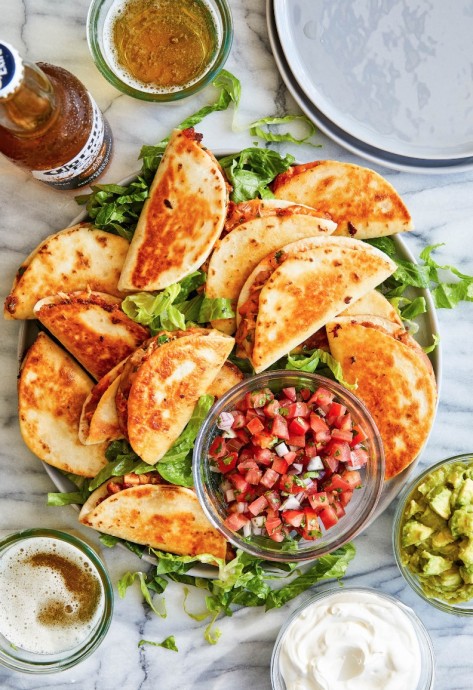 Crowd-pleasing snack-size quesadillas with refried beans, leftover rotisserie chicken + melted cheese! SO SO GOOD!
Is there a better way to repurpose leftover rotisserie chicken than this? Mini snack-size quesadillas with a salsa-chicken-filling cooked until melted, golden brown cheesy goodness? They're perfect to feed big crowds as a snack (hello, Game Day essentials here) or even a light lunch for the family.
I like to serve mine with a dollop of guacamole, pico de gallo and sour cream but you can use any or all of them. They're also fantastic on their own. Sometimes the toppings just get in your way anyway.
Ingredients:
1 1/2 cups leftover finely shredded rotisserie chicken
1 1/2 cups shredded Mexican blend cheese
1/3 cup restaurant-style salsa
1/4 cup chopped fresh cilantro leaves
Kosher salt and freshly ground black pepper, to taste
1 cup refried beans, homemade or store-bought
16 street tacos flour tortillas
3 tablespoons canola oil, divided
FOR SERVING
1 cup guacamole
1 cup pico de gallo
1/4 cup sour cream