Pesto Quinoa Bowl (Vegan & GF!)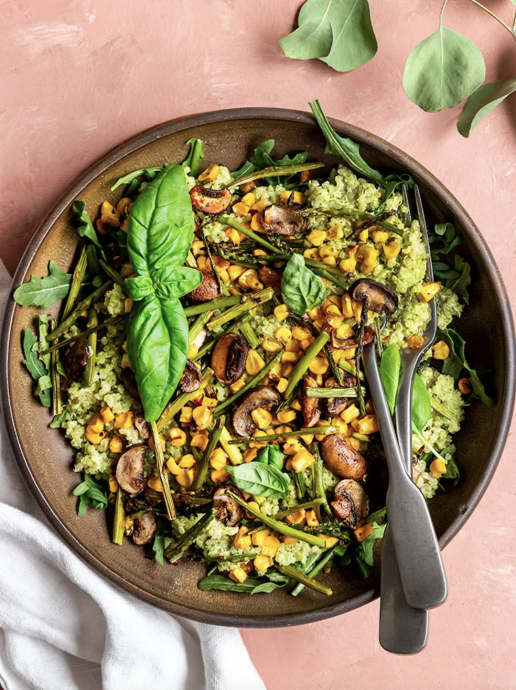 You will love this healthy vegan Pesto Quinoa Bowl. This pesto grain bowl combines the best Vegan Basil Pesto with roasted spring veggies including asparagus, corn, mushrooms, and arugula. Not only is this quinoa bowl incredibly flavorful, but it is also full of nutritious greens too!
It truly amazes me I haven't brought more vegetarian quinoa recipes to the blog because I am truly IN LOVE with quinoa. Between this dish, my Black Bean Quinoa Burgers, and my Quinoa Stuffed Delicata Squash, there is no shortage of meals with quinoa in this house!
Ingredients
Ingredients
Quinoa & Veggies
1 ½ cups dried quinoa
2 ¼ cups vegetable broth
3 cups chopped asparagus cut into 2-3 inch pieces
1 cup canned corn about 7-8 oz of 14 oz can
3 cups button mushrooms sliced thin
1-2 Tablespoons oil
½ teaspoon garlic powder
¼ teaspoon red chili pepper flakes
½ teaspoon salt more or less to taste
¼ teaspoon ground black pepper more or less to taste
3-4 cups fresh arugula or spinach
Vegan Pesto
½ cup raw cashews soaked 30 minutes in hot water
1 clove garlic or ½ tsp garlic powder
2 Tablespoons pine nuts
1 Tablespoon nutritional yeast
2 Tablespoons olive oil
2 teaspoons lemon juice
½ cup basil tightly packed
1 cup loosely packed greens spinach and arugula are best, but you can also use kale
3 Tablespoons water more for thinner sauce
salt & pepper to taste add as needed