Blackberry Glazed Tofu With Black Pepper & Chili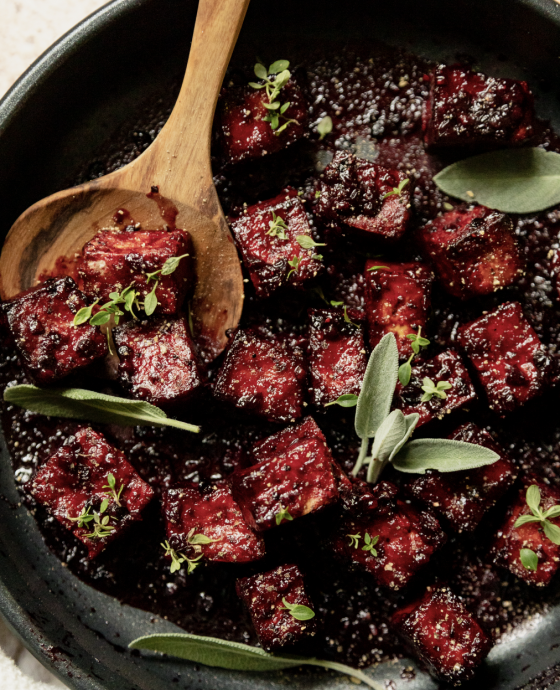 This crispy and sticky glazed tofu with blackberries, balsamic, black pepper, and ground chillies is flavourful, tangy, unique, and rich in plant-based protein. This recipe is ready in 30 minutes with 10 key ingredients.
What to serve with glazed tofu? I like to use it in a grain bowl setup or alongside some simple grilled/roasted veggies. It would be amazing with my Creamy Mustard Slaw or this Apple Kale Salad with Miso Mustard Dressing. I feel like it could also be great rolled up into a wrap with some slaw on top.
I'm presenting two possible cooking methods here. For both, the tofu is pressed and tossed with arrowroot starch and coconut aminos (you can sub Tamari or soy sauce). From there, you can either pan fry or air fry the tofu cubes (with air frying, you also toss the tofu with oil). I find air frying gets the tofu crispier and I enjoy that the process is mostly hands off. Pan frying is easier in terms of cleanup but will likely require a bit more oil in the process too.
Ingredients:
Tofu
1 block (14 oz/397 grams) firm tofu
2 tablespoons olive oil
2 tablespoons coconut aminos
sea salt and ground black pepper, to taste
1 tablespoon arrowroot starch
Blackberry Glaze
1 cup (heaped) fresh blackberries
2 tablespoons balsamic vinegar
2 tablespoons maple syrup
¾ teaspoon freshly ground black pepper
½ teaspoon chili flakes or ground chillies (I used Diaspora Co's ground Guntur Sannam chillies)
¼ teaspoon ground ginger
salt, to taste
1-2 tablespoons water, if necessary