Mega Crunchy Romaine Salad with Quinoa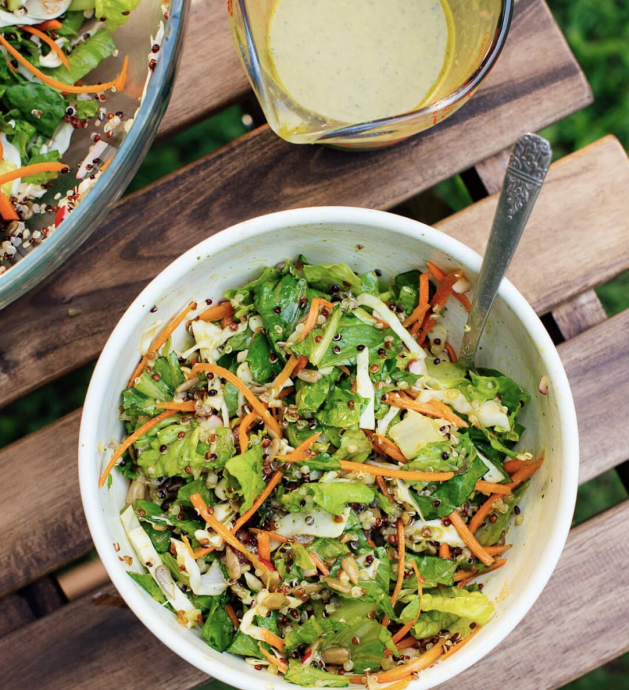 See that salad? I just ate leftovers for breakfast. After my annual too-many potato chips session at the lake with my family, I'm craving fresh, bright, satisfyingly crunchy things. Surely I am not the only one!
I really want to tell you all about Oklahoma, and how the trees shrink into broccoli florets and the dirt turns red on that familiar drive south on I-35. I want to tell you about meeting my newest cousin and how she let me hold her for over an hour (maybe I hogged her a bit). And how extra-cute Cookie is after a few days apart. She's snuggled up under my right elbow now.
Ingredients:
Salad
⅔ cup uncooked quinoa, rinsed
1 ⅓ cups water
½ cup raw sunflower seeds
½ teaspoon olive oil
1 small head of romaine (about 11 ounces) or one 5-to-6-ounce bag of romaine, chopped into bite-sized pieces
1 cup shredded carrots (I used 2 large carrots, turned into ribbons with a julienne peeler and roughly chopped)
1 cup chopped cabbage (green or purple) or broccoli slaw
½ cup chopped radishes
½ cup dried cranberries
Zippy cilantro dressing
⅓ cup olive oil
3 tablespoons lime juice (about 2 medium limes)
2 tablespoons rice vinegar
¼ cup lightly packed fresh cilantro
2 teaspoons honey or maple syrup
2 medium cloves garlic, roughly chopped
½ teaspoon fine-grain sea salt
¼ teaspoon chipotle chili powder or regular chili powder