Raspberry Crumb Cake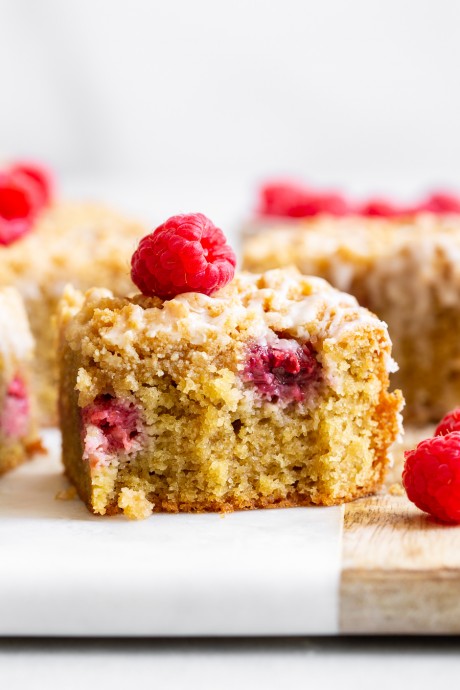 This Raspberry Crumb Cake is tender and moist and bursting with sweet raspberry flavor! It starts with a grain free lemon almond coffee cake topped with fresh lots of fresh raspberries, piled with crumb topping and drizzled with maple glaze. It's gluten-free and paleo and will become a favorite dessert or breakfast treat with the first bite! Coffee cakes, crumb cakes – one of all-time favorite treats of many to indulge in! Whether we're talking dessert, snack, or a special breakfast and brunch treat, not only is it the perfect coffee companion but it has so much to offer on its own.
Between a moist flavorful cake (think a hint of lemon and almond, moist and sweet with juicy raspberries), a nice thick crumb topping and glaze, you won't believe this cake is grain free and paleo! I have no doubt you'll want to make this cake again and again after the first try. The ingredients are simple, and, if you've made my other baking recipes you probably have everything ready to go!
Ingredients:
Crumb topping
2/3 cup blanched almond flour
1/4 cup ghee refined coconut oil, or grass fed butter, solid
6 Tbsp maple sugar
Cake batter
3 eggs room temperature
2 Tbsp almond milk
Grated zest of one medium lemon
2 Tbsp fresh lemon juice
1/4 cup melted refined coconut oil or melted ghee, cooled a bit (not hot)
1 tsp pure vanilla extract
1 tsp pure almond extract
2/3 cup pure maple sugar coconut sugar will work too, the color will be much darker
2 1/4 cups blanched almond flour
1/4 cup tapioca flour
3/4 tsp baking soda
1/4 tsp salt
1 cup fresh raspberries about 4.5 oz
Glaze
2/3 cup organic powdered sugar or powdered maple sugar for a Paleo option*
2-3 tsp almond milk
1/2 tsp pure vanilla extract or almond extract