Crispy Chicken Tikka Bowls with Mint Sauce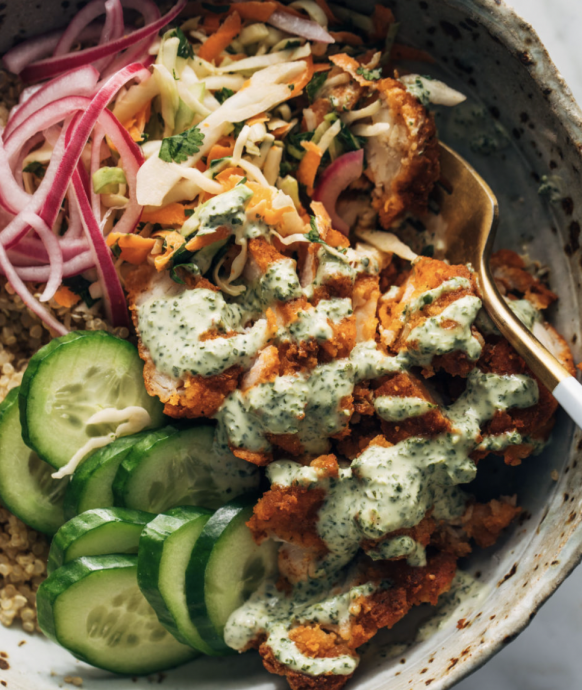 Bringing you these addicting Chicken Tikka Bowls! Crispy bits of chicken tenders, crispy cucumbers, and briny pickled onions, all on a bed of fluffy quinoa with a swoop of cool mint sauce on top. You absolutely cannot go wrong with these bowls.
Please make way in your tums and hearts for this terribly addicting, incredibly delicious chicken tikka bowl. It's here. It's a go-to lunch/dinner/bedtime snack. It couldn't be easier and we simply cannot stop eating it. It's also absolutely flexible and super easy to throw together, so it is very ready to be your new best friend.
This isn't chicken tikka in the traditional Indian cuisine sense where pieces of marinated chicken are grilled or baked on skewers in a tandoor oven. And it isn't even full chicken tikka masala, which is a curried version where that chicken tikka then gets simmered in a creamy spiced tomato sauce and served over rice. Instead, we're borrowing that delicious deeply spiced flavor using our favorite jarred version of masala sauce and giving some easy crispy chicken tenders a little brush and bake. It's definitely a bit outside the norm, but we are absolutely here for it.
Ingredients:
Crispy Chicken Tikka Bowls
a few pieces of crispy breaded chicken (homemade option, or store-bought)
1/2 cup tikka masala sauce (homemade option, or store-bought)
cooked quinoa
sliced or diced cucumbers
pickled red onion
slaw (toss a few cups of shredded cabbage and carrots tossed with mayo, vinegar, and salt, or use a store-bought slaw mix)
Mint Sauce
1/4 cup mint leaves
1/4 cup cilantro leaves
1/2 cup mayo or plain Greek yogurt
1/2 teaspoon salt
juice of a lime
1 clove garlic
1 hunk of jalapeño
water to thin the sauce as needed