Apple, Cheddar, and Fig Focaccia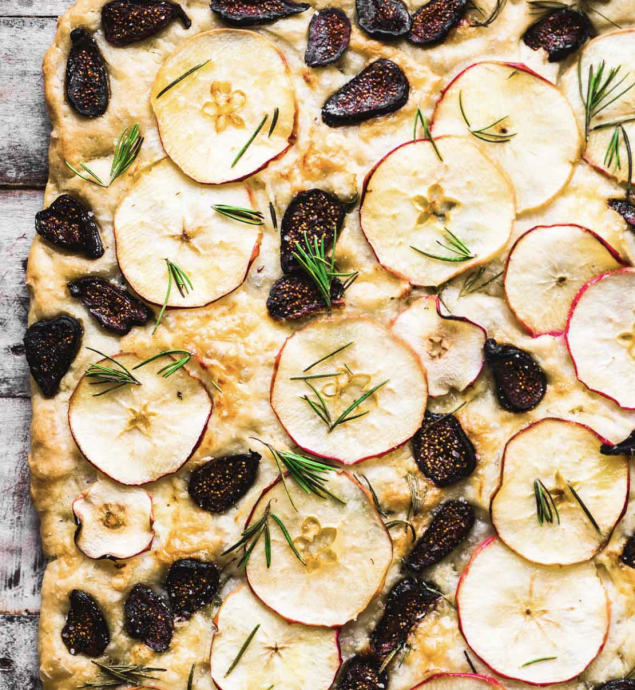 My Apple, Cheddar, and Fig Focaccia is topped with iconic flavors of the season: figs, apples, cheddar and rosemary ~ it's a perfect fall cheese plate meets crusty bread! Make this super easy focaccia the centerpiece of your next fall grazing table.
The onset of Fall makes me want to bake bread. The urge goes dormant all spring and summer, and then, like clockwork, pops back up right about now. I'm going to lean into bread baking with the easiest of all recipes, the instant gratification of the bread world…focaccia. And not just any focaccia, this epic bread is topped with thin sliced Honeycrisp apples, plump Orchard Choice or Sun Maid dried figs, buttery cheddar cheese, and fresh rosemary.
Are dried figs good for you? They sure are, dried figs are really good source of fiber, with tons of essential minerals such as potassium, iron and calcium. They're full of antioxidants and complex carbohydrates (the good kind.)
Do dried figs contain added sugar? No, good quality dried figs should not contain added sugar, check your labels. A dried fig is high in natural sugar, but only about 20 calories each, so a handful of 5 is a good snack.
Ingredients:
2 tsp dry yeast (one packet or 1/4 ounce) be sure it's fresh!
2 cups warm water (105-110F)
2 tsp table salt
4 cups all-purpose or bread flour, I usually use all-purpose
extra virgin olive oil, about 1/4 cup plus extra for oiling the bowl
2 small apples
lemon juice (for soaking the apples)
6 ounce package of Sun Maid Golden Figs or Orchard Choice Mission Figs
1/2 cup shredded sharp cheddar cheese
approximately 2 Tbsp fresh rosemary leaves ~ do not use dried!
kosher or sea salt for sprinkling over the top