Flourless Walnut Cake with Fresh Figs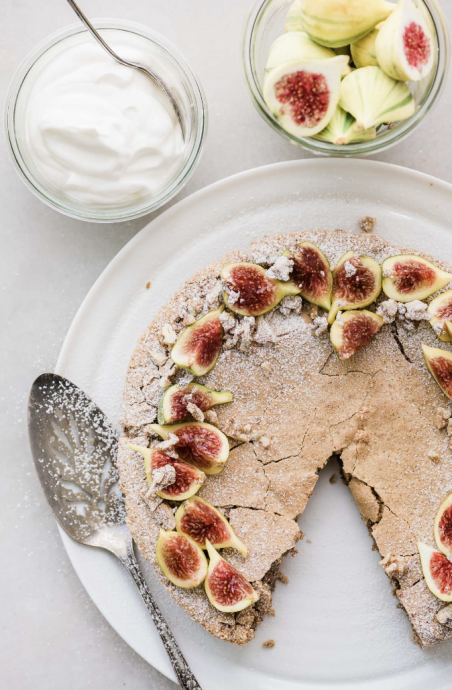 My Flourless Walnut Cake with Fresh Figs is a 3 ingredient gluten free cake topped with gorgeous figs and lightly sweetened whipped cream. This classic Italian cake recipe is truly special!
Ground walnuts, eggs, and sugar make a perfectly moist, grain free dessert with a truly sophisticated flavor. It's unusual and really delicious. It has the light/dense/moist texture of a great brownie, and it almost tastes chocolatey it's so rich! You can see in the photos that the thin crust is crisp and shatters slightly when you slice into it…then comes the payoff: a fluffy, delicious center that is the essence of walnuts. This cake is a big discovery for me, I'm super happy with it.
Do you have a favorite nut? Walnuts are mine because the flavor is so complex. I love the hint of bitterness which plays so well in sweets and desserts.
Ingredients
cake
8 ounces or 228 grams ground walnuts, about 2 cups
9 ounces or 255 grams granulated sugar, about 1-1/4 cups
6 large eggs, at room temperature
1/4 tsp cream of tartar, optional
topping
fresh figs, cut into wedges
crushed walnuts
powdered sugar
whipped sweetened cream