Amazing Apple Pie Cheesecake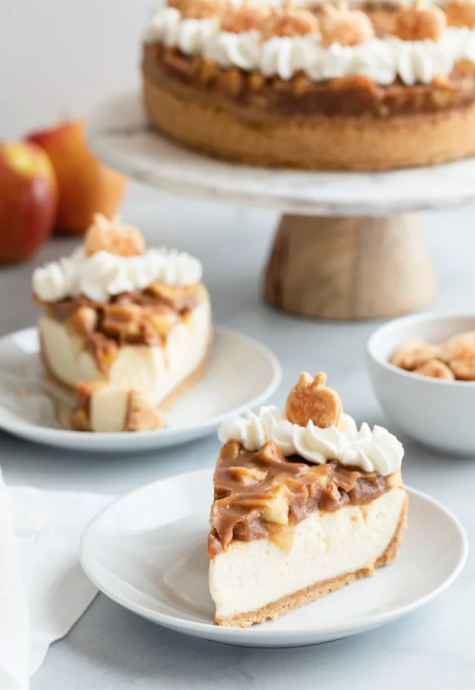 An apple pie cheesecake combines the best of both worlds! You get a fantastically creamy cheesecake topped with flavorful apple pie filling. This is sure to be one of your favorite delights.
There's something so satisfying about cheesecake and apple pie. But when you combine the two, you get a fantastic dessert. The baked cheesecake is topped with a stovetop apple pie filling so no additional baking is required. The cheesecake is garnished with sweetened whipped cream and pie crust cut-outs. Which is totally optionally but highly recommended. The cheesecake bakes for an hour then needs to cool to room temperature. And it must be refrigerated for at least 4 hours but it is so much better if you let it chill overnight. If you love creating fun cheesecake variations and this recipe is just that. It tastes exactly like apple pie with cheesecake. The ingredient list is long but don't let this veer you away from making the recipe. It's truly delightful.
Ingredients:
For The Crust
2 cups (200 g) vanilla wafer crumbs
¼ cup (50 g) granulated sugar
5 tablespoons unsalted butter, melted
For The Cheesecake Filling
24 ounces (678 g) cream cheese, softened
¾ cup (150 g) granulated sugar
½ cup (114 g) sour cream, room temperature
1 tablespoon vanilla extract
¼ teaspoon salt
3 large eggs, room temperature, lightly beaten
For The Topping
3 ½ cups (500 g) peeled and diced apples, SEE NOTE 1
1 tablespoon lemon juice
4 tablespoons unsalted butter
¼ cup (32 g) all-purpose flour
¾ cup (180 ml) apple cider
¼ cup (50 g) granulated sugar
¼ cup (52 g) light brown sugar, packed
1 teaspoon ground cinnamon
¼ teaspoon ground nutmeg
⅛ teaspoon salt
For The Pie Crust
½ pie crust recipe, or you can use store-bought
2 tablespoons milk
2 tablespoons coarse sugar
homemade whipped cream, or you can use store-bought