Pumpkin German Dutch Baby Pancake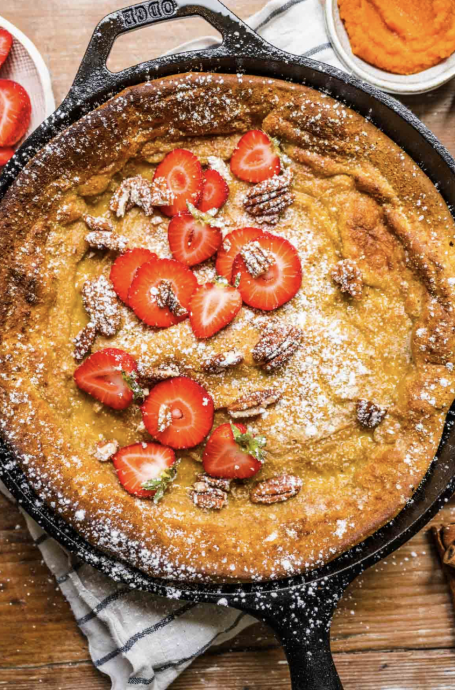 Pumpkin German Dutch Baby Pancake is a giant pancake baked in a skillet with pumpkin puree, brown sugar, fall spices, vanilla and butter.
This Pumpkin Spice Dutch Baby is the perfect seasonal twist on Classic German Pancakes. You can enjoy the decadent Fall Breakfast Recipe for a weekend morning, Thanksgiving breakfast, or as a favorite brunch dish.
It's Fall again, which can only mean one thing. It's time to bust out your favorite pumpkin dishes from Pumpkin Pie to Pumpkin Chili. With this amazing Pumpkin Dutch Baby, you'll have one more delicious pumpkin recipe an amazing Autumnal breakfast.
Dutch Pancakes are a new breakfast obsession of mine. The simple, puffy pancake base is the perfect starting point to experiment with different add-ins and toppings for new favorite breakfast dishes. In this version, you just mix in pumpkin puree, nutmeg, cinnamon, and ginger to get all your favorite fall flavors in one breakfast.
After baking the Pumpkin Dutch Baby, top it off with a dusting of cinnamon and powdered sugar. Then you can put it out with maple syrup so everyone can add as much as they want. You can also, use heavy cream to make Homemade Whipped Cream and enjoy an especially decadent Pumpkin Spice German Pancake.
Ingredients:
3/4 cup flour
2 tablespoons brown sugar , packed
1 teaspoon ground cinnamon
1/4 teaspoon grated nutmeg
1/4 teaspoon ground ginger
1 pinch salt
4 large eggs
3/4 cup whole milk
1/4 cup pumpkin purée
1 teaspoon vanilla extract
4 tablespoons unsalted butter
To Finish:
1/4 cup powdered sugar
1/4 teaspoon ground cinnamon