Seriously Good Sweet Potato Cheddar BBQ Chicken Burgers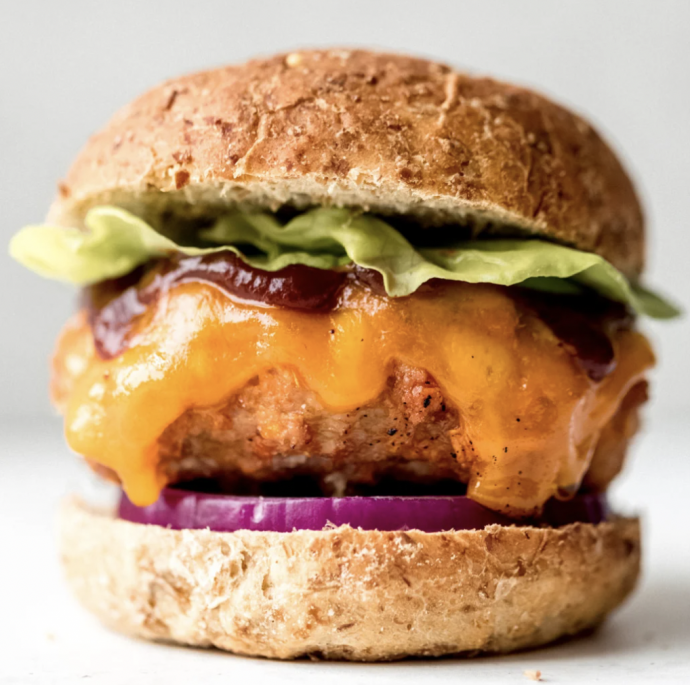 Seriously good BBQ chicken burgers with shredded sweet potato to keep them juicy. Top these incredible sweet potato chicken burgers with tangy, sweet BBQ sauce, sharp cheddar cheese, red onion and lettuce for the ultimate healthy grilled chicken burger recipe that's perfect for summer!
These healthy BBQ chicken burgers are my favorite to throw on the grill during the summer because not only are they incredibly delicious but also super juicy, packed with flavor and easy to make! The secret ingredient keeping them so moist and juicy is shredded sweet potato; trust me, you won't regret adding it because it also gives the burger a unique slight sweetness, plus it's nutritious!
Ingredients:
1 pound 93% lean ground chicken (or sub ground turkey) -- do not use 99%
1 cup shredded raw sweet potato (from about 1 small sweet potato)
2 tablespoons low sugar bbq sauce of choice
1/4 cup finely diced yellow onion
2 cloves garlic, minced
1/2 teaspoon cumin
1/2 teaspoon salt
Freshly ground black pepper
4 slices sharp cheddar cheese
For assembly:
4 hamburger buns of choice, toasted if desired
4 tablespoons low sugar BBQ sauce of choice, for topping
Butterhead lettuce
Sliced red onion