Gluten Free Peach Crisp with Salted Coconut Milk Caramel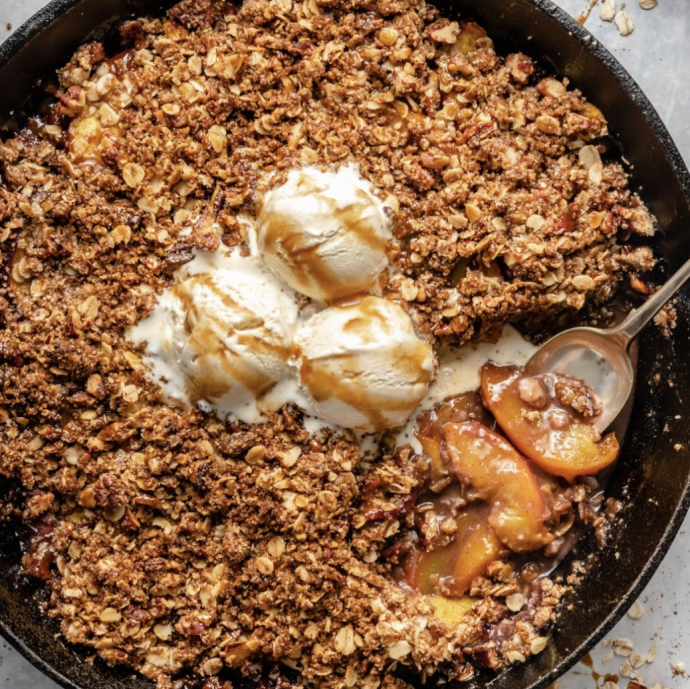 Juicy gluten free peach crisp with a crunchy pecan-oat topping and a drizzle of the easiest homemade dairy free caramel. You're going to LOVE this healthy peach crisp recipe. The perfect summertime dessert with a scoop of your favorite ice cream!
I like to call this recipe: the best damn gluten free peach crisp you're ever going to eat in your life. So I guess there's always that too.This incredible, healthier peach crisp recipe is naturally sweetened, vegan and dairy free but tastes oh-so indulgent. Juicy peaches, a crumbly oat topping, salted caramel drizzle — what more could you ask for? Here's what you'll need to make it:
The peach filling: you'll need some juicy ripe peaches, maple syrup, vanilla extract, warming cinnamon and nutmeg. It's like a cozy summertime hug.
The crunchy oat topping: I'm pretty much obsessed with this crunchy, golden oat topping. To make it you'll need gluten free rolled oats, pecans, dark brown sugar or coconut sugar, salt, cinnamon and some coconut oil. Essentially you end up making your own gluten free flour combination out of oats and pecans. Half of the mixture is blended to create a flour-like consistency, and half stays whole to create a ridiculously crunchy topping! It's SO good.
The salted caramel: we're keeping the caramel dairy free by using canned coconut milk, water, coconut sugar, vanilla and some sea salt. The result is AMAZING.
Ingredients:
For the filling:
6-7 large ripe peaches, thinly sliced (about 7 cups thinly sliced peaches)
¼ cup pure maple syrup
2 teaspoons vanilla extract
Optional: 1 vanilla bean, split and seeded
½ teaspoon cinnamon
⅛ teaspoon nutmeg
For the topping:
1 cup old fashioned rolled oats, gluten free if desired
1 cup raw chopped pecans
1/3 cup dark brown sugar (can also sub coconut sugar but brown sugar is best)
¼ teaspoon salt
½ teaspoon cinnamon
¼ cup melted and cooled coconut oil (can also sub melted butter)
For the salted coconut milk caramel:
1/4 cup canned coconut milk (light or full fat will work -- just make sure the full fat is stirred completely first)
1/4 cup water
1/4 cup coconut sugar
1 teaspoon vanilla
1/4 teaspoon sea salt