Grilled Sesame Chicken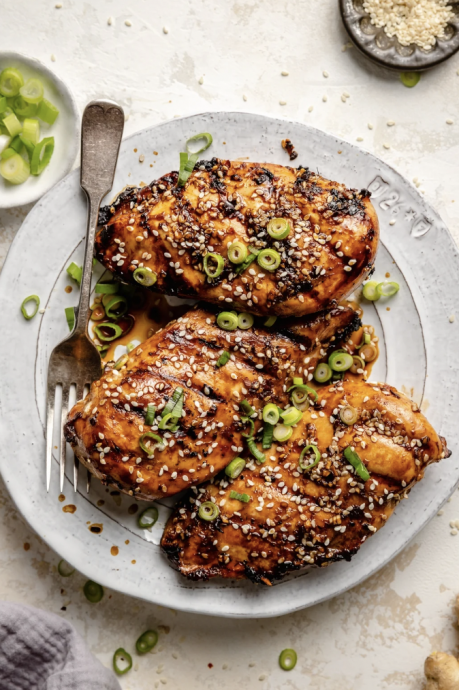 Juicy and delicious grilled sesame chicken marinated in an easy ginger sesame chicken marinade. Serve this sesame chicken recipe with a salad, in a grain bowl, or on its own with your favorite sides! Options to grill or bake the chicken included. Starting with this incredible grilled sesame chicken made with an easy, super flavorful ginger sesame marinade that you'll want to use for all of your meals. I've included instructions for how to bake or grill this chicken so yes, you can make it all year round!
We love adding this juicy sesame chicken to all types of recipes: fresh, crunchy salads (hint: coming soon), rice or noodle bowls, or serving as-is with a side of veggies and coconut rice. I mean, just look at that rich color and those beautiful grill marks! It's seriously so delicious on its own, and the team and I fell in love when we tested it earlier this summer. This one is a MUST for your dinner plans this month.
Ingredients:
1 pound boneless skinless chicken breast
1/4 cup low sodium soy sauce or coconut aminos
2 cloves garlic, minced
2 tablespoons brown sugar or coconut sugar
1 tablespoon tahini
1 tablespoon sesame oil (preferably toasted sesame oil)
1 tablespoon rice vinegar
1 tablespoon fresh grated ginger
1 tablespoon sesame seeds
½ teaspoon red pepper flakes
To garnish:
Sliced green onion
Sesame seeds