Homemade Mozzarella Sticks Recipe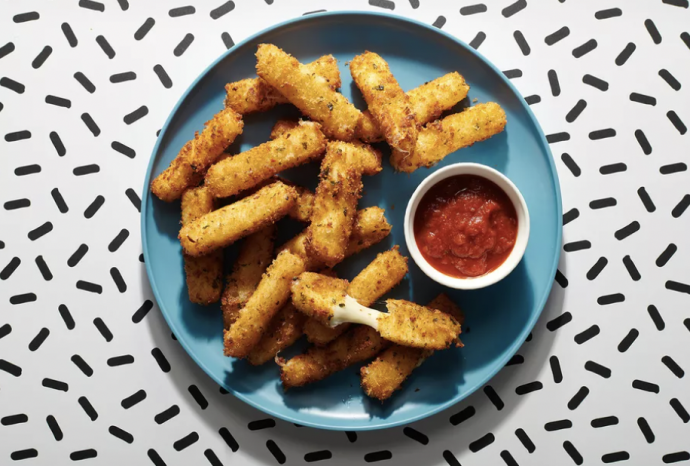 What's not to like about fried cheese? This warm and savory snack is ooey and gooey, crunchy and creamy, and typically served with a side of marinara sauce for the perfect sweet tang to round out the flavors.
Although mozzarella itself is Italian, fried mozzarella sticks are actually American. With the earliest documented fried cheese recipe belonging to surprise, surprise, France in the 1393 cookbook entitled Le Ménagier de Paris, the modern-day mozz stick didn't emerge until the 1970s. Likely due to more sophisticated frying technologies, the availability of mass-produced mozzarella cheese, and the general need for finger foods in neighborhood bars and fast, casual restaurants.
These fried snacks are perfect for soaking up the alcohol, so that of course patrons can drink more. Customarily coated with Italian seasoned breadcrumbs my version calls for panko, a Japanese breadcrumb that is more coarsely ground than its Italian counterpart. Panko also uses crustless white bread and because of its ability to absorb less grease, is lighter and crunchier than regular breadcrumbs.
Ingredients:
1 pound low-moisture mozzarella cheese block
1/4 cup all-purpose flour
2 large eggs
2 tablespoons milk
2 cups panko breadcrumbs
1 teaspoon garlic powder
1 teaspoon kosher salt
2 teaspoons dried parsley
1/4 teaspoon cayenne pepper, optional
Vegetable oil, for frying
Favorite dipping sauce, such as marinara or ranch, optional