Sweet And Sour Shrimp Lettuce Wraps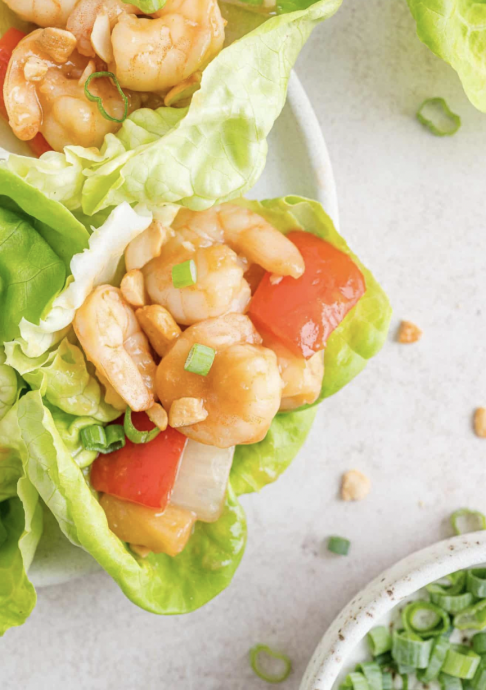 There's nothing ho-hum about sweet and sour shrimp lettuce wraps. If you're looking for an exciting new dinner idea, you'll love these healthy wraps.
Fast cooking shrimp, crisp red bell pepper, and juicy pineapple are bathed in a tangy sweet and sour sauce, loaded on crisp green lettuce leaves, and garnished with crunchy cashews and sliced green onions.
Is your mouth watering yet? This is a really flavorful entrée that's easy to make and you'll use just one pan, so clean-up is a piece of cake. At only 369 calories per serving, it's a healthy meal, too. It's really a hand held salad!
Most of us have ordered sweet and sour shrimp at Chinese restaurants. The shrimp is battered, deep fried, and drowned in a bright colored sweet and sour sauce. This recipe is a much lighter version of that with homemade sauce, sautéed shrimp, and crisp vegetables.
Ingredients:
Sauce:
¼ cup honey
2 tablespoons pineapple juice (from canned pineapple)
2 tablespoons low sodium soy sauce
1 tablespoon rice vinegar
1 tablespoon ketchup
1 clove garlic, minced
1 teaspoon grated ginger root
1 teaspoon Sriracha
2 tablespoons cornstarch
Stir Fry:
1 tablespoon coconut oil
1 small onion, diced into ½ inch pieces
1 red bell pepper, cut into ½ inch pieces
1 pound shelled and deveined shrimp, 51/60 count, thawed if frozen
1 cup chopped pineapple (we recommend buying an 8 oz. can pineapple tidbits in 100% juice)
8 large leaves bibb lettuce (you may need more)
⅓ cup chopped cashews
2 green onions, thinly sliced