Slow Cooker Pork Loin With Balsamic Glaze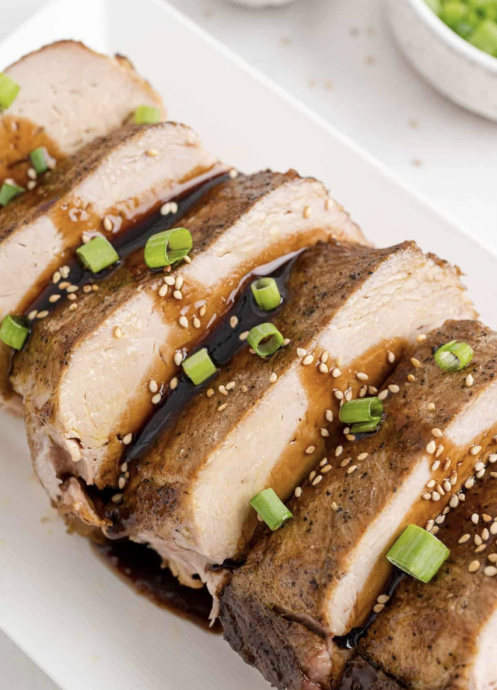 Tender and juicy pork with a sweet balsamic glaze, this slow cooker pork loin is a dinner favorite. Fix it and forget it!
Looking for creative new ideas for weekday dinners? Or, having company over for dinner and you need an easy foolproof entrée? This slow cooked pork loin roast may be just what you're looking for. Imagine thick slices of tender pork roast, perfectly seasoned and slowly simmered all day, served with a rich dark balsamic glaze.
Even though it sounds like it could be complicated, this crockpot pork loin recipe is super easy. You can put it on in the morning or right after lunch and let the slow cooker do its thing. The slow gentle heat ensures that the pork loin, a lean cut of pork, will be tender and juicy.
Pork loin roasts are easy to serve, too. Because it is boneless, a pork loin roast slices neatly and beautifully, particularly if you have a good sharp knife. Served with a drizzle of dark balsamic glaze, and topped with a sprinkle of sesame seeds and sliced scallions, it makes a dramatic appearance on the dinner table.
Ingredients:
For the Pork:
1 boneless pork loin (4-6 pounds)
½ cup light brown sugar
1 tablespoon Dijon mustard
1 tablespoon balsamic vinegar
2 garlic cloves, minced
1 teaspoon salt
½ teaspoon ground black pepper
For the Glaze:
1 cup light brown sugar
2 tablespoons cornstarch
½ cup balsamic vinegar
1 cup water
¼ cup reduced sodium soy sauce
Ground black pepper, to taste
toasted sesame seeds and green onions (optional)