Chocolate Lasagna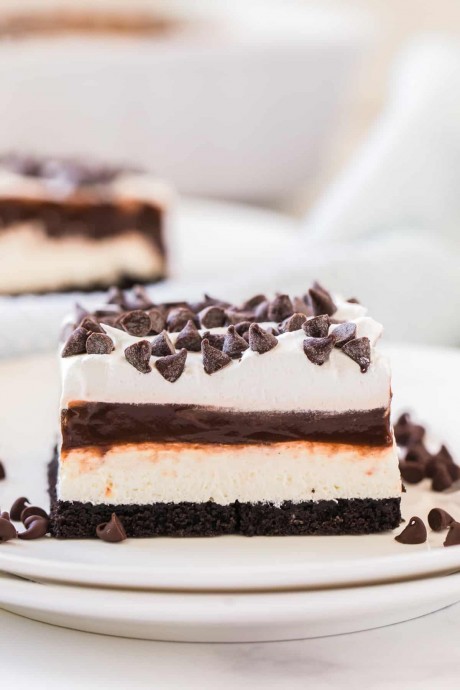 This delicious chocolate lasagna is made on an Oreo crust and has layers of cream cheese, chocolate pudding and finished with a whipped topping. Easy to make, this no bake dessert is a real show stopper. This rich and creamy chocolate lasagna is such a wonderful dessert and I promise that everyone will be asking for more!
You will love this chocolate lasagna recipe, because it's no bake, it keeps the oven free and makes it really easy to make without too much fuss. It's a great make ahead dessert, so it's perfect to serve during the holidays. It's a real show stopper! When you place this on the table everyone's eyes will light up!
You can store chocolate lasagna in the refrigerator for an additional three to four days. This dessert can be made up to two to three days in advance.
Make sure that it is sealed in an airtight container or is covered in some type of plastic wrap or covering when storing. This Chocolate Lasagna Recipe is great for any time of years. It's so versatile and loved by all!
Ingredients:
36 regular Oreos not double stuffed, with filling
5 Tbs salted butter melted
1 ½ 8 ounce packages cream cheese, softened
¼ cup granulated sugar
1 Tbs milk
2 tsp vanilla extract
8 oz whipped topping 16 oz total, divided in half
2 3.9 ounce packages instant chocolate pudding mix
3 cups milk
8 oz whipped topping
1 cup mini chocolate chips