Mushroom Stuffed Chicken Breast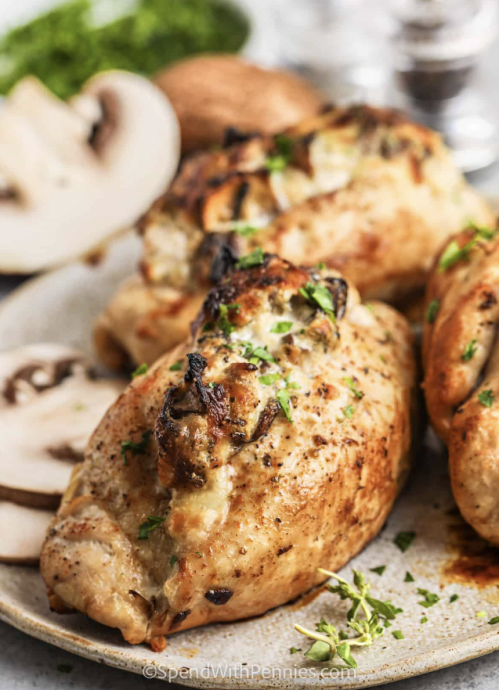 This recipe is delicious and so elegant, that you won't believe how easy it is to make.
Chicken and mushrooms are a perfect pair! This recipe combines them in a creamy, herb garlic filling!
They're also deceptively low carb and everyone in my family loves them!
Easy enough for every day, but elegant enough to serve when company's coming, too!
Prep ahead of time, chill, and cook when ready!
Just add a side of wild rice or baked potatoes, a simple salad, and a glass of vino!
Ingredients:
1 ½ pounds boneless skinless chicken breasts about four 6-oz chicken breasts
½ teaspoon each paprika & garlic powder
1 tablespoon olive oil
mushroom filling
1 tablespoon salted butter
3 tablespoons white onion minced
6 ounces brown or white mushrooms thinly sliced
2 tablespoons dry white wine optional
1 clove garlic minced
¼ teaspoon thyme
3 tablespoons spreadable herb & garlic cream cheese *see notes for options
2 ounces mozzarella cheese shredded
salt & pepper to taste